As instances of violence against police officers across the country escalate, chilling warnings about plans to kill cops on New Year's Eve continue to emerge.
A message scrawled on a bathroom wall at a Kum-and-Go gas station in Arkansas states, "A cop will be killed New Year's night in Rogers, AR."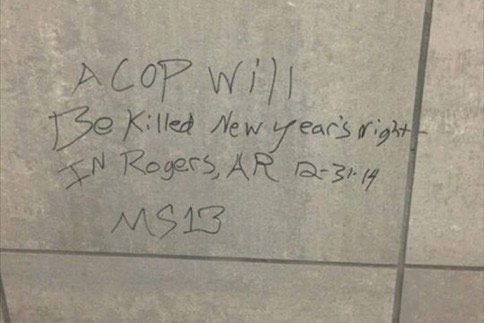 The message is signed "MS13," which is the name of a criminal gang that has members in numerous major cities across the United States.
Rogers police Officer Keith Foster said the department was not aware of any specific threat but would be on alert after the warning.
In a separate incident, a Ferguson protester also tweeted "F*ck 12 and u. PICK A sidE or die with em. #Ferguson #VonderritMyers Shawtown 211MOB New Years Eve Massacre Kill A Pig Night 12/31/2014."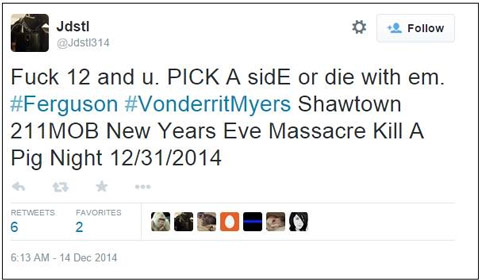 As we previously reported, Michael Brown supporters voiced their desire to see Officer Darren Wilson and other white police officers murdered in the aftermath of last month's Grand Jury verdict.
The threats follow a spate of incidents across the country where police have been targeted in violent attacks.
Last night, a 52-year-old man who made terroristic threats against cops on social media was shot dead after he attempted to run over police officers in Delaware County.
Over the course of the last week, there have also been three assassination attempts against officers in Tampa, FL, Los Angeles, CA and Durham, NC.
Threatening or carrying out acts of violence against police officers in the name of protesting against police brutality is completely ludicrous and self-defeating.
Such behavior in the aftermath of the Michael Brown shooting and the Eric Garner choking has only served tobolster advocacy for cops, with the Associated Press reporting on a "surge of support for police" in the aftermath of the murder of two NYPD officers.
Despite liberals seizing on a Baltimore Fox affiliate being caught deceptively editing audio to frame Black Lives Matter protesters chanting "kill a cop," this has been a theme of some post-Ferguson protests, as documented in the video below which features demonstrators in New York chanting, "What do we want? Dead cops. When do we want it? Now."
Facebook @ https://www.facebook.com/paul.j.watson.71
FOLLOW Paul Joseph Watson @ https://twitter.com/PrisonPlanet
*********************
Paul Joseph Watson is the editor at large of Infowars.com and Prison Planet.com.