This report was originally published by Adam Taggart at Peak Prosperity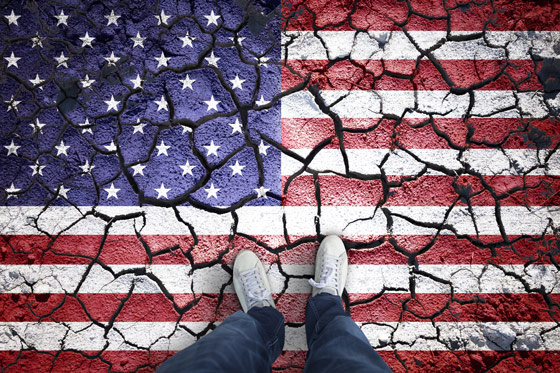 There's mounting evidence that the Age of American Exceptionalism is grinding to an end.
Demographically, in the U.S. (as well as many other developed nations), the prospects of the younger generations are substantially less than those of the Baby Boomers. The same is true socioeconomically as well; the wealth gap between the 1% and everyone else continues to accelerate.
What's been the root cause of this slide towards greater and greater inequity? And can anything be done to reverse it?
Economist analyst and author Charles Hugh Smith addresses these core questions in his new book Pathfinding Our Destiny: Preventing The Final Fall Of Our Democratic Republic. Charles concludes that we are the terminal end of a multi-century process of centralization that is no longer working for society's benefit:
We have a political system which is becoming increasingly tied into money. Now, people have always said, like from 100 years ago, "money is the mother's milk of politics". Money and power have always coalesced around political power. But in the last, say, 70 years, post-World War II, the central governments and central banks of the world have grown immensely in their centralized power.

And one of the theses I'm proposing in my book is that centralization itself in now the problem. We've been told for 400 years that it's been the solution. Just centralize power and wealth into tighter and tighter control and then that will somehow solve whatever problems we have.

The intense concentration of power is becoming blatantly visible these days. Six media companies control most of the media in the U.S. It used to be six banks, but now I think it's down to only three or four, who control most of the financial system. And we see this in one sector after another. Facebook dominates social media. Google dominates search and ads and so on. And this makes perfect sense is the system we have now.In other words, it's really efficient, and it's very profitable. If you can establish a cartel or a monopoly or a quasi-monopoly, then you can just raise your prices, and people have to pay it and it's profitable. Everybody wins, right? The shareholders win. The managers win. The public? Well… eh, they don't have a choice.

My book's conclusion at the higher, systemic level is that it's critical for people today to understand that we're not going to be able to reform the current system as its structured and that we're going to have to radically de-centralize power, wealth and capital. And we're going to have to open the doors, so to speak, to a bunch of experimentation to find out what works best.I think the best path is actually just asking people to develop those values. And I think those values are going to be the ones that are adaptive and flexible and most likely to bring personal success, community success, to those people that hold those values and understand that that's the future.
Click the play button below to listen to Chris' interview with Charles Hugh Smith (45m:49s).
To read the transcript of this video, please click here