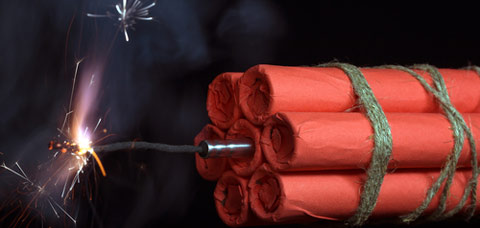 If you're like most Americans, then you are absolutely loving the price you paid this week for a gallon of gas. Just a couple of years ago it was not uncommon to see a $75 price tag for filling up your car. Today, you might be driving off for half that amount.
On the surface the recent drop in the price of oil has been a huge boost to America's pocket books. But according to some analysts we shouldn't be to quick to celebrate. The U.S. Oil and Gas industry has seen incredible job growth during the recession, with nearly 800,000 new jobs being attributed to domestic fracking and drilling expansion. At over $100 barrel, there was plenty of money to go around.
But with a sub-sixty dollar price point, it's quite possible that all economic hell is about to break loose.
For many it has already begun.
Thousands of recently highly paid workers have been laid off after the oil price plummeted 50 percent in 2014. At least four American oil-producing states are already facing budget problems due to decreasing oil revenues.

[…]

In a study published last year, the Council on Foreign Relations warned the largest job losses caused by sharp decline in oil prices are going to take place in North Dakota, Oklahoma and Wyoming, where the number of drilling rigs is decreasing.

[…]

According to Tom Runiewicz, a US industry economist at IHS Global Insight, if oil stays around $56 a barrel till the middle of the next year, companies providing services to oil and gas industry could lose 40,000 jobs by the end of 2015, while oil and gas equipment manufacturers could slash up to 6,000 jobs.

These workers can earn more than $1,700 a week, much higher than the average $848 a week payment for other workers, the WSJ reported. When experienced workers lose their highly paid jobs, they stop paying their bills.

Source: RT
Those are the conservative estimates and they are based on a $56 price point, which is almost exactly where we are today. But Saudi Arabia and other OPEC nations have suggested the price could drop to $40 or even as low as $20.
In such a scenario we could easily see widespread layoffs in an industry that currently employs over 10 million Americans.
But that's not even the worst of it.
While losing 50,000 or even a million jobs will have a major impact on consumer spending, and thus the economy, the real problem is the massive amount of leveraged bets and debt currently in the system. There are trillions of dollars of derivatives and leverage at play in financial markets, much of it centering around the oil & gas industry. Should the price of oil remain at these levels or go even lower then a lot of major financial institutions are going to be in trouble.
In a recent interview with King World News, John Ing says that not only did Congress remove financial safeguards when they passed their latest budget bill, but by doing so they left America susceptible to a disaster that will make 2008 look like a dress rehearsal.
While everybody appears to be celebrating the record highs on Wall Street, we are also seeing a loss of public trust.  One key example of this loss of public trust is when you look at the $1.1 trillion spending bill in the U.S., where there was the dilution of the Dodd-Frank Act which now allows for bail-ins in the United States… This will lead to disastrous consequences…

[…]

Meanwhile, the derivatives monster has gotten even bigger.  With the drop in the oil price we have yet to see the impact of the credit default swaps and what this will mean for the stability of the global financial system. 

This will certainly set off a chain reaction of problems in 2015.

[…]

The 2008 collapse was just a dress rehearsal compared to what the world is going to face this time around.  This time we have governments which are even more highly leveraged than the private sector was.

So this time the collapse will be on a scale that is many magnitudes greater than what the world witnessed in 2008.

Full Interview: King World News via Steve Quayle
On top of all the other problems being faced by Americans – low wages, lackluster job growth, increased medical care costs, rising prices on essential goods, and more taxes to name a few – could the sudden drop in the price of oil could be the trigger that sends the whole thing crashing down?
As we saw in 2008 it can happen quickly. Within a matter of a few weeks trillions of dollars in wealth were vaporized and America fell into it's worst recession since the 1930's.
This time, as John Ing notes, the magnitude of the crash will be significantly worse and even the U.S. Treasury Department has warned that the system is so volatile that should there be even a single hiccup in our government's ability to borrow money it would lead to a catastrophic effect lasting more than a generation.
America sits on the brink of the largest financial and economic collapse in the history of the world and the recent drop in the price of oil could be the Black Swan no one saw coming.
Those who fail to position themselves accordingly could experience serious damage to their wealth and well-being if and when this happens. Time is running short and now is the time to prepare. After the panic starts it will be too late.