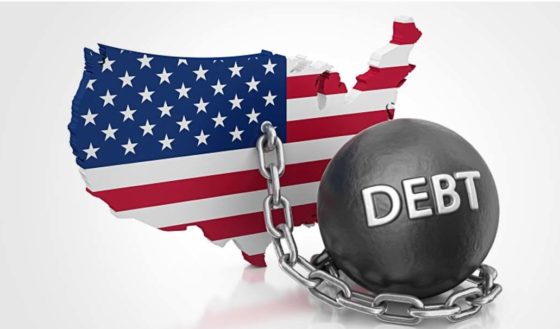 The latest economic outlook from the Congressional Budget Office is dire.  It's basically saying that if the federal government continues borrowing and spending at the current rate, an apocalyptic economic crisis is coming.
According to the CBO's own report,  if spending continues at the projected pace the national debt and the federal deficit would reach alarming levels, causing a fiscal crisis in the United States.  The federal deficit is expected to reach $897 billion in the fiscal year 2019, alarming many economists.
Fiscally irresponsible spending bills coupled with the great recession boosted the debt dramatically over the past decade. And at the end of the 2018 fiscal year, the amount of public debt reached 78 percent of gross domestic product (GDP). The CBO estimates that debt held by the public will rise steadily over the next decade, reaching 92.7 percent of GDP by 2029 and 150 percent of GDP in 30 years. –The Epoch Times
This is rather dangerous news for the economy. "Even at its highest point ever, just after World War II, the debt was far less than that—106 percent of GDP," Keith Hall, the director of the CBO said in his testimony at a congressional hearing on January 29. But the government won't do anything about it.  In fact, they want to spend and tax even more.
The CBO is warning that the high and ever-rising national debt will have significant negative consequences for the economy. "We anticipate a very strong, tough budget coming out to hold down spending," Larry Kudlow, White House chief economic adviser, told reporters on January 28. "The President has talked about this—at least 5 percent reduction in the nondefense accounts across the board." Kudlow believes the White House's future proposal will lower spending and cut the deficit. "Economic growth is absolutely essential to reducing the deficit share of GDP, which is the burden on the economy," he added.
As private debt and public debt both rise to alarmingly high levels, the economy hangs in the balance.  It certainly won't take much for this gigantic everything bubble we've found ourselves in to burst.
Read the CBO's entire "Economic Outlook" report by clicking here.