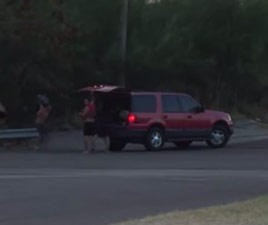 As Donald Trump prepared to arrive in Laredo for a tour of the US border, Infowars captured astounding footage which shows illegals sneaking across the Rio Grande river before they frantically throw huge bags of drugs into a vehicle and swim back to Mexico.
Infowars reporters Joe Biggs and Josh Owens traveled to Laredo to cover Trump's highly publicized visit. While recording footage of the Rio Grande river, which forms part of the Mexico–US border, Owens spotted illegals crossing the water in the distance on rafts and began to film.
The clip then shows an individual holding open the trunk of a red Ford Explorer before four illegals frantically run up carrying huge packs of what are almost certainly drugs before quickly throwing them into the vehicle and fleeing back towards Mexico.
The vehicle then drives into America as one of the smugglers glances back towards Biggs and Owens.
Biggs and Owens immediately had to go into hiding and remove the license plates on their vehicle because they were spotted by the cartel during filming.
The footage validates Trump's assertion, for which he has been vilified for weeks, that illegal immigrants are bringing drugs into the United States.
"When Mexico sends its people, they're not sending their best," Trump said during his announcement that he would run for president. "They're sending people that have lots of problems, and they're bringing those problems with us. They're bringing drugs. They're bringing crime. They're rapists. And some, I assume, are good people."
Trump was invited to visit the border by the National Border Patrol Council and will arrive in Laredo later today, although the participation of Border Patrol agents was subsequently canceled after the national AFL-CIO-controlled union intervened.
Mexican drug cartels make up to $29 billion annually from U.S. drug sales, with 90% of the cocaine that enters America transiting through Mexico. The majority of marijuana and methamphetamines that are sold in the U.S. also come from Mexico.
The footage illustrates the porous nature of the US border and how easy it would be for ISIS terrorists – who reportedly have set up training bases nearby, to bring militants, weapons and explosives into America.
Facebook @ https://www.facebook.com/paul.j.watson.71
FOLLOW Paul Joseph Watson @ https://twitter.com/PrisonPlanet
*********************
Paul Joseph Watson is the editor at large of Infowars.com and Prison Planet.com.