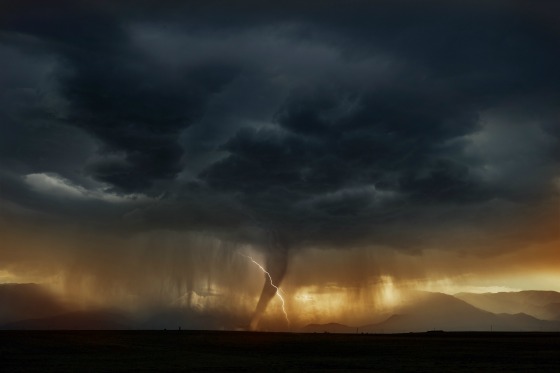 The weather phenomenon known as the "bomb cyclone" is hammering the central United States.  Blizzard warnings were posted from Colorado to Minnesota on Wednesday while wildfires were a concern for those living in New Mexico, Texas, and Oklahoma.
Cataclysmic weather conditions are being reported over large swaths of land and could have the potential to destroy even more farmland already devastated by flooding in the Midwest.  This is the second so-called "bomb cyclone" storm in less than a month hit the central U.S., according to a report by Market Watch.
https://www.shtfplan.com/headline-news/the-food-crisis-is-upon-us-hundreds-of-millions-of-dollars-in-crops-destroyed_04092019
Up to 2 ½ feet (0.61 meters) of snow was expected to fall in parts of eastern South Dakota and southwestern Minnesota, the National Weather Service said. And that was before heavy snowfall disrupted both air and ground travel Wednesday. Winds in excess of 50 mph (80.46 kph) also were expected, creating life-threatening conditions.
"We're calling it historic because of the widespread heavy snow. We will set some records," said Mike Connelly, a weather service meteorologist in Aberdeen, South Dakota. Additionally, transportation officials closed Interstate 29 from east central South Dakota to the North Dakota border and said other stretches of major interstates were likely to close as conditions deteriorated. Numerous traffic crashes were reported in northeastern South Dakota, and the storm knocked out power to thousands of homes and businesses in Sioux Falls. South Dakota also experienced another strange apocalyptic weather phenomena known as "thundersnow." Though not especially rare, snow was accompanied by thunder and lightning in central South Dakota. "It's essentially a thunderstorm, but it's cold enough for snow," Connelly said.
Market Watch further reported that in Nebraska, the State Patrol was sending additional troopers into the state's panhandle, and officials closed Interstate 80 in that region. "This storm is going to be dangerous," Patrol Major Russ Stanczyk said.
The weather service posted an ice storm warning into Friday morning for a portion of southern Minnesota, saying up to three-fourths of an inch of ice could accumulate on power lines, leading to outages.