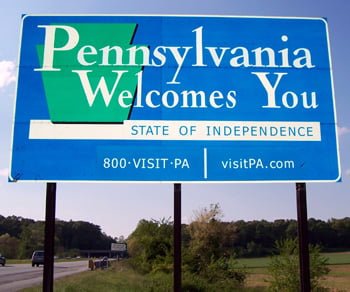 Back in December of 2010 we published a report in which well known bank and economic analyst Meredith Whitney warned of the coming debt defaults of local and state governments:
It has tenticles as wide as anything I've seen. I think next to housing this is the single most important issue in the United States and certainly the largest threat to the US economy.
In less than a year the Capitol of the State that once hosted the Constitutional Convention, Harrisburg, Pennsylvania, has become the first major government body to file for bankruptcy:
The city of Harrisburg, Pennsylvania, facing a state takeover of its finances, filed for bankruptcy protection following a vote by City Council, according to a lawyer for the council.

Mark D. Schwartz, a Bryn Mawr, Pennsylvania-based lawyer and former head of municipal bonds for Prudential Financial Inc.'s mid-Atlantic region, said he filed the documents by fax to a federal bankruptcy court last night. The filing couldn't be confirmed with the U.S. Bankruptcy Court in Harrisburg.

The state capital of 49,500 faces a debt burden five times its general-fund budget because of an overhaul and expansion of a trash-to-energy incinerator that doesn't generate enough revenue.

"This was a last resort," Schwartz said in an interview after the council voted 4-3 to seek bankruptcy protection. "They're at their wits end."

…

In a copy of the Chapter 9 petition provided by Schwartz, the city lists both assets and debt of $100 million to $500 million. According to the copy, the city has 49 or fewer creditors.

The Pennsylvania Senate is scheduled to take up legislation next week that would make Harrisburg the first municipality in the state to be placed in receivership.

Source: Business Week
Most of the bond holders, just like those who held debt in the now government and union controlled General Motors, will be wiped out or forced to take reduced payments, which doesn't bode well at all for the municipal bond markets. Zero Hedge weighs in:
And now that the precedent has been set (yes, Virginia, it can be done) watch as tens if not hundreds of other cash-strapped towns, cities, localities and other entities follow suit promptly to quite promptly.

…

And now, spin time.
For those who thought government jobs and pensions were safe from the economic contraction, think again. As cities and states face budgetary problems amounting to hundreds of billions of dollars, their only recourse will be to start cutting jobs and renegotiating pension commitments. Meredith Whitney had a gloomy forecast for this as well, claiming in June of 2010 that at least 2 million government jobs would be eliminated as city councils and state legislators are forced to tighten their belts.
Harrisburg is the first. It won't be the last.
And, as we've opined previously, the States are soon to follow with their own debt problems. While the Federal government will likely step in with bailouts when we get to the State level, the real question that should be on everyone's mind is, who will bail out the US government's $150 trillion plus in future liabilities?