This article was contributed by Future Money Trends.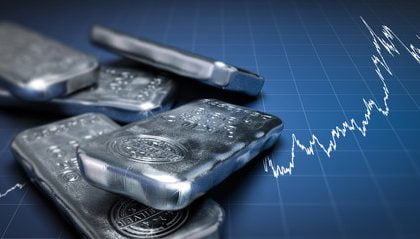 Silver's price is tied with inflation much more than gold's is. In the 1970s, as inflation raged in the United States, silver rose to $50/ounce, having started the decade at under $2. It was a sensational decade for the white metal.
However, in the 1980s and 1990s, as deflationary forces brought interest rates down rapidly, the metal's price languished. Today, its price is HALF of what it was in 1980!
Obviously, investing in silver is NOT similar to investing in gold, which does enjoy a long-term appreciation under both deflationary and inflationary environments.
The question, then, is whether or not there's a potentially interesting trade setting up in silver now that it has doubled from its March lows.
The answer depends on inflationary pressures and inflationary expectations.
We are seeing that the dollar is dramatically weakening, which is the first sign that silver is likely to enjoy the momentum.
Here's the dollar chart as it stands today:
It doesn't feel like the trend is swinging, either. This seems to be a long-term structural decline. Even the price of oil is back over $50/barrel.
Silver's price has already tested $30 this year and has shown that in the first stages of a recovery, however weak it may be, it can surge by triple-digits.
In 2009, for instance, it appreciated from $9 to $49 in two short years.
Again, this is a trade that could be capitalized upon, not a buy-and-hold idea.
The price of silver has directly correlated with the price of oil over the years. With oil surging, this could be a critical bullish catalyst for silver.
In the end, silver is an ideal way of betting on inflation.
The Federal Reserve has done the heavy lifting for us. It arbitrarily mandated 2% inflation as some magical number. This means that the street will be bracing for inflation if the FED measures it as such.
Therefore, the smartest move is to watch that 2% gauge from Powell and his buddies.
In our world, we're reaching a point that we call the DEBT LIMIT, which is the moment when deflating the currency supply by simply adding more debt is not productive.
This moment will change how investors view inflation.
Be prepared for it and study the topic thoroughly in the meantime.