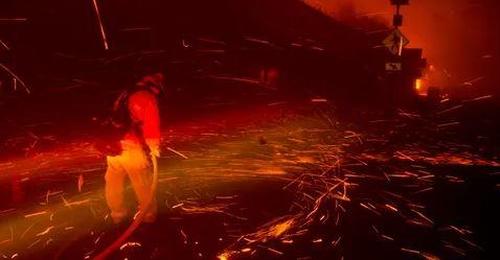 In the mere 6 days of the Camp Fire scorching across Northern California, 125,000 acres have been burned and 42 human lives have been lost.  Sadly, the Camp Fire has also already been given the unfortunate title of California's deadliest fire.
Last year, the Carr Fire was California's deadliest fire with eight deaths attributed to the fire. According to NASA, the Camp Fire is also the most destructive in California history as well with over 7,000 structures destroyed by the blaze.  The fire began on November 8, 2018, and has grown to a staggering 250,000 acres in just under a week. The cause of this blaze is still under investigation. California state regulators are investigating two utility companies that reported incidents close in time and location to the start of the Camp fire.  Over 52,000 people have been evacuated due to the Camp Fire in over 1,300 shelters.  To date, the blaze is only 30% contained.
The death toll is expected to continue to rise as the fire burns its way through more homes, especially considering there are 200 people still missing, according to a report from The New York Times. Adding to the 13 coroner teams from across the state who were already working to locate the dead in and around Paradise, the Butte County sheriff announced a sharp increase in experts who specialize in finding human remains. Some of those experts include 150 extra search-and-rescue personnel, cadaver dogs, and two portable temporary morgue units from the military. The sheriff is also seeking a machine to "expedite the analysis of DNA" to speed up the identification of any remains found.
"My sincere hope is that I don't have to come here each night and report a higher and higher number," the Butte County sheriff, Kory L. Honea, said at a news conference on Monday night.
President Donald Trump said on Twitter Monday evening that he had approved a request to declare the fires in California a major disaster, making people affected by the fires eligible for various types of federal government financial support.
https://twitter.com/realDonaldTrump/status/1062153051459469312
Extremely dry fuels from on-going drought conditions in California, coupled with rugged terrain are presenting firefighters with challenging conditions.  The excruciatingly dry conditions with high winds help contribute to the massive and speedy growth of the Camp Fire.  Presently, the high winds have abated and fire growth has slowed. Responders from across the country have joined the effort from Wyoming, Washington, Oregon, New Mexico, Nevada, Arizona, Utah, Colorado, South Dakota and Nebraska.