This report was originally published by Tyler Durden at Zero Hedge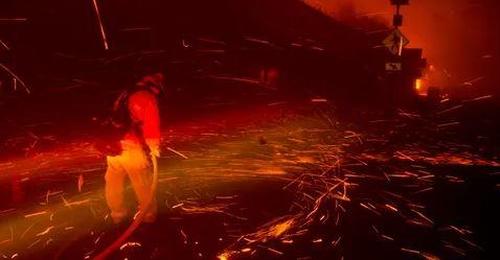 Update: PG&E and Edison stock prices are crashing as analysts warn that the potential wildfire costs could soar…
Some 149,000 Californians are effectively homeless after fleeing from the Camp, Woolsey and Hill fires, which have afflicted Butte County, as well as Ventura and LA counties and destroyed more than 6,700 homes and buildings, with thousands more expected to burn. And as the death toll hits 31, putting this round of wildfires on track to become the deadliest in the state's history as more than 200 people remain missing, a picture of the total damages that have been wrought by the fires is beginning to emerge. According to Bloomberg, the state, insurers and homeowners could be on the hook for a combined $19 billion in damages.
Though that is a staggering sum, at least one analyst believes it's a conservative estimate. To put it in context, Hurricane Harvey caused more than $100 billion in total economic devastation when it slammed Houston last year. Though the total sum could be on par with Hurricane Michael, which slammed the Florida panhandle and parts of the southeastern US last month.
"The California fires are as bad as folks think they are," said Chuck Watson, a disaster modeler at Enki Research. He pegged the possible damages of about $25 billion once the fires have been put out and the total damage can be assessed. Insurance for fire-related damages is already becoming an issue.
Some 8,000 local, state and federal firefighters have arrived to battle the flames as hot, dry "devil winds" are set to persist for much of this week. Already, the Camp Fire has destroyed more structures than any other California wildfire since data collection began. Among the losses include dozens of celebrity-owned homes in Malibu, where the Woolsey and smaller Hill fires are wreaking havoc. Up north, the entire town of Paradise, Calif. has been leveled by the flames.
The blazes have spread to cover a combined 200,000 acres. Gov. Jerry Brown has asked President Trump to issue a "major disaster declaration" that would give California access to federal aid – though there's a chance that Trump might be reluctant to release the money.
"We're putting everything we've got into the fight against these fires, and this request ensures communities on the front lines get additional federal aid," Brown said in a statement.
In a harrowing series of images, USA Today showed before-and-after images of homes and businesses in Paradise.
The NWS warned over the weekend that there appears to be no end in sight for the blazes, as the forecast is largely free of seasonal rain. Extinguishing the Woolsey fire could take another five days, and it could take the rest of November to extinguish the Camp Fire, according to CalFire.
Looters
Butte County police have arrested several men suspected of looting during the Camp Fire. The men were reportedly trying to impersonate Forest Service personnel to gain access to the area.
There have been 53 reports of suspected looting in the fire zone according to authorities.