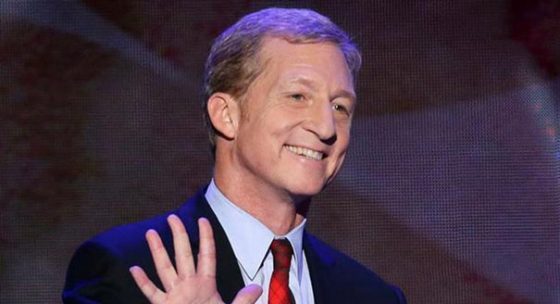 California billionaire Tom Steyer has spent millions of dollars on advertisements aimed at impeaching president Donald Trump. But in the long run, all his wasted money has gotten him are some signatures on a petition.
On October 20, Steyer launched a campaign to impeach president Trump.  He created an ad that quickly went viral and a petition to get others to join his effort.  According to Fortune sources, Steyer spent "well over" ten million dollars to air the ad in all 50 states.
Trump threatens our Constitution, our freedoms, and our lives. It's time to begin impeachment proceedings. Join us. https://t.co/L5Azj0p6oA pic.twitter.com/rqQkt2aMn8

— Tom Steyer (@TomSteyer) October 20, 2017
Steyer explained in an interview with TIME that Trump is "an immediate danger to the health and safety of America," arguing that Trump's administration "doesn't have a clue." His ad tells viewers that "a Republican Congress once impeached a president for far less." Referring to a possible run for California Governor or a Senate seat, Steyer told TIME, "I'm willing to do just about anything to try and contribute to getting us back on a growth path that is just and good for America. I haven't ruled out any of those races because I'm trying to figure out the thing that will make the biggest impact."
As if petitions (begging the government) to impeach the head of the government has ever worked or made an impact…but nonetheless, one California billionaire is out tens of millions of dollars for his efforts.  Imagine the homeless people Steyer could have fed or clothed for that kind of money. Where are the liberals and their moral high ground now?
Trump did, however, catch wind of Steyer's "plot" which will achieve the same results as the Women's March (absolutely nothing) and made sure to tweet about it Friday. Trump tweeted: "Wacky & totally unhinged Tom Steyer, who has been fighting me and my Make America Great Again agenda from beginning, never wins elections!"
https://twitter.com/realDonaldTrump/status/923866515358789633
According to recent figures acquired by Axios, Steyer's worthless petition has already collected more than one million signatures to date: 1,119,720, to be exact.  Steyer will also continue to run his ad and spend egregious amounts of money on his belief that only Democrats should be allowed to be president.