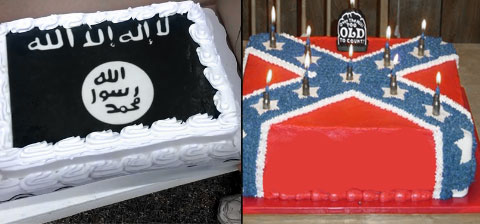 As we all know the Confederate flag has been put in the crosshairs as an icon of racial tensions, but this story takes the cake! (Wait, sorry).
Walmart must put cake in its mouth, after the corporate giant is cleverly caught in a cultural hypocrisy of its own weaving.
First, the store refused to make a cake for a Louisiana man designed with the Confederate flag stars and bars and the words "Heritage Not Hate."
However, in a follow up request, the same man ordered an ISIS flag cake, which the Walmart bakery did fulfill.
Why? To make a point about free speech and the narrow, flimsy and shifting targets of "hate speech" rules:
Chuck Netzhammer said he ordered the image of the Confederate flag on a cake with the words, "Heritage Not Hate," on Thursday at a Walmart in Slidell, Louisiana. But the bakery denied his request, he said. At some point later, he ordered the image of the ISIS flag that represents the terrorist group.

"I went back yesterday and managed to get an ISIS battleflag printed… That's an ISIS battleflag cake that anybody can go buy at Walmart… But you can't buy a Confederate flag toy, with like, say, a 'Dukes of Hazzards' car." [Chuck Netzhammer stated in a YouTube video]. (source: ABC News)
So exactly whose rights to twisted culture, dark heritage and expression are on the chomping block here – and who gets to decide what speech is OK?
Voltaire is known for this misattributed quote:"I disapprove of what you say, but I will defend to the death your right to say it." Someday, his statue will be toppled, too, but not over slavery. It will coincide with the death of free speech under a new but as-yet undefined tyranny for what his image represents.

After the ISIS cake folly, Walmart felt a Southern oblige to apologize for this cultural battle in the politically-correct civil war of the 21st Century. Here's a hint of the outcome: both sides lose as the middle class is slaughtered in a sneak attack.
Businesses have a right to refuse business, whether its customers approve or not; but whereas a small town pizza joint was ruined for refusing to serve a gay wedding, Walmart and corporate giants are being celebrated for the coordinated public-private partnership to blacklist controversial Southern flag merchandise – tainted by its ties to slavery and therefore made eligible for erasing it from Orwellian history and speech, too?
This is less a battle of who is right, than it is an experiment to test the sentiments of the population, and how far they can be nudged. Is the overwhelming force of propaganda enough to once again rouse the rabble and drive the lemmings over the cliff on manipulated "wedge issues"? How long can our eyes be taken off the ball before we see how badly the country is being economically screwed over?
Whatever your creed and social allegiances, ask yourself how we once again got stuck fighting with each other, while "they" get away with whatever they want.
For the answer, keep watch of the problematic "solutions" offered again and again under the problem-reaction-solution conundrum society repeatedly faces. Say it again kids: never let a good crisis go to waste.
.  .  .  .  .  .
BANNED: Iconic Dukes of Hazzard Car 'General Lee' Stripped Of Confederate Flag: "This is a new level of P.C. idiocy"