This report was originally published at Infowars.com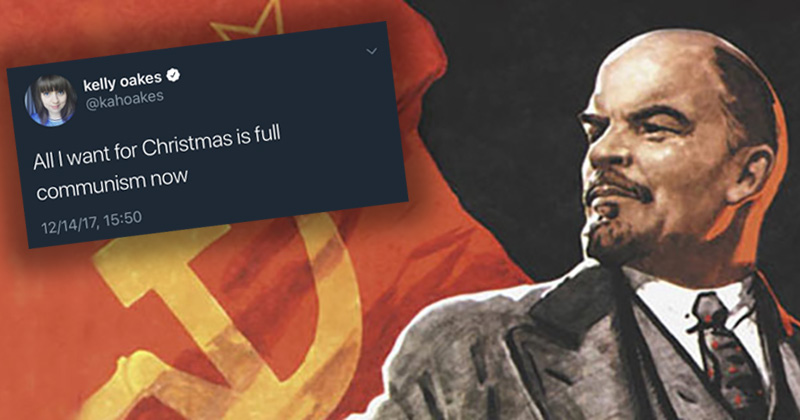 BuzzfeedUK's science editor Kelly Oakes has set her twitter account to private after declaring, "All I want for Christmas is full Communism now."
#BuzzFeed editor. Enough said. pic.twitter.com/zShnRtd7sO

— James Woods (@RealJamesWoods) December 17, 2017
Oakes received swift backlash on Twitter following the absurd tweet, prompting her to switch her account to private.
Sounds like u have never lived under it! Some of us have.

— Stephen Payne (@Britinfloridaus) December 15, 2017
Ever notice no one is escaping capitalistic democracies for communist states? Yet people have always fled communist states for free nations. Feel free to move to North Korea, Cuba, China or Venezuela.

— JamesG (@TheBigJamesG) December 15, 2017
@kahoakes No communism for christmas I'm afraid, but I see you gave yourself an Iron Curtain around your account. Please keep it up. Or delete your account. There's enough cancer on Twitter already.

— H ⬛ V (@_the_Patrician) December 15, 2017
This isn't the first time Buzzfeed staffers revealed their misplaced love of Communism.
Just last month, Buzzfeed reporter Blake Montgomery said in a now-deleted tweet that President Trump honoring the victims of Communism was a "white nationalist talking point."
Buzzfeed world editor Miriam Elder was one of many who criticized the remark, noting "Soviet oppression was real."
Montgomery has since apologized after the backlash.
I cover white nationalists, and they use that language a lot, which is why I made that very dumb mistake. 2/2

— Blake Montgomery ? (@blakersdozen) November 7, 2017
Backlash against tweets like tend to be severe considering Communism's well-documented history of oppression and democide, being responsible for the deaths of well over 100 million people in the 20th century alone.
"Over the past century, communist totalitarian regimes around the world have killed more than 100 million people and subjected countless more to exploitation, violence, and untold devastation," the White House said in a statement after Trump declared Nov. 7, "National Day for the Victims of Communism."
"These movements, under the false pretense of liberation, systematically robbed innocent people of their God-given rights of free worship, freedom of association, and countless other rights we hold sacrosanct. Citizens yearning for freedom were subjugated by the state through the use of coercion, violence, and fear."