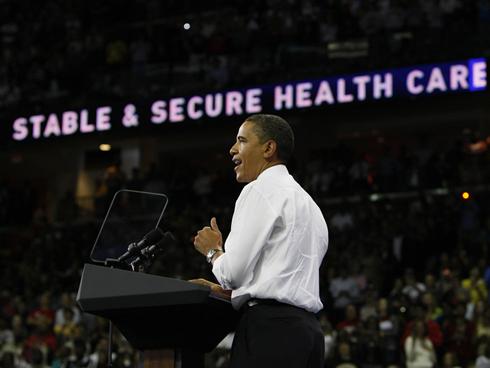 Since the government sector has done such a great job at managing social security, the postal service, and the extension of mortgage credit why not also mandate that every health care worker in the country become a federal, state or local employee?
According to a new book by Mallory Factor, the effort is already underway. When the Patient Protection and Affordable Care Act, also known as ObamaCare, becomes fully effective on January 1, 2014 it'll open the door for America's 21 million healthcare workers to the join the government dole as paid employees of the State.
What, you thought Obamacare would only socialize the actual medical care and services, and leave the rest of the system operating as a free market?
A booklet published by SEIU during the 2008 election season called for "building a new American health care system," in part by "organizing workers." The publication argued for outcomes nearly identical to those later adopted in the Obamacare legislation.

…

In 2010 the SEIU elected Mary Key Henry as its new International President. Henry's background was in health care organizing. She led efforts to unionize workers at Beverly nursing homes, Catholic Health Care West, Tenet Healthcare Corporation and HCA Healthcare.

Factor, who is also a Forbes columnist and senior editor of money and politics for The Street.com, recounts emails from former federal Office of Labor-Management Standards staffer Don Loos, now a senior adviser to the president of the National Right to Work Legal Defense Foundation.

"It is clear that Big Labor is banking on the probability that all healthcare workers eventually become federal, state, and municipal healthcare employees," Loos told Factor. That, he said, would make them eligible for involuntary unionization through public-sector unions like AFSCME and the SEIU.

"Obamacare is an SEIU and AFSCME membership 'net,'" Loos claimed, "designed to eventually capture 21 million forced-dues paying government workers." New health care jobs created by Obamacare, he said, will eventually be filled by "federal, state, and municipal healthcare employees."

The Obamacare law, once fully implemented, will dramatically increase the number of health care workers receiving payment for their services through government programs, including Medicaid and so-called "public option" government-run insurance plans.

"The government employee unions can then enlist pro-union state governments to treat these health care workers as 'government employees,'" Factor told The Daily Caller, "and unionize them just like they unionized the care providers" themselves.

"For every million additional health care workers unionized in the 27 non-right-to-work states," he told TheDC, "the unions stand to earn $1 billion in dues."

Factor writes in "Shadowbosses" that Canada's national health care system has provided an apt example. Heritage Foundation labor economist James Sherk told him that "60 percent of Canadian health care workers and a stunning 80 percent of nurses belong to unions — more than quadruple the levels in America."

Only 10 percent of them were union members before the advent of socialized medicine in Canada, Factor said.

Source: The Daily Caller
Twenty one billion dollars in new revenue can be quite a motivating factor for union leadership and explains why they are organizing thousands of existing organized laborers across the country to put pressure on their elected representatives and existing health care providers. With the majority of Congressional representatives willing to sell their souls to the highest bidder, twenty million more donors supporting the unions through dues would do wonders for their campaign budgets.
We can fully expect to see America's health care labor force unionized. First through voluntary means, then through legislative mandates that force all new healthcare workers entering the field to join a federal or state sponsored union.
One day soon a trip to the emergency room involving a broken leg or heart attack may very well be met with, "Sorry, we're on a union break, be back in fifteen."