This report was originally published by Tyler Durden at Zero Hedge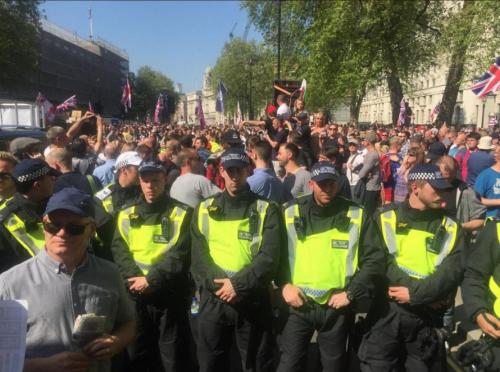 The arrest, imprisonment, and government-ordered media blackout of UK journalist and activist Tommy Robinson has set off a firestorm of protests around the world.
Free speech advocates and supporters of Robinson's movement from Melbourne to Berlin came out by the thousands to protest the Friday arrest outside of Leeds Crown Court while Robinson was reporting on a pedophile grooming trial via Facebook livestream. Within six hours of his detention, Robinson was slapped with a 13 month prison term for violating a prior suspended sentence for a similar offense.
"A big police van with about seven police officers pulled up and arrested [Robinson] and told him to stop live streaming," Robinson's producer told RT (before their article (archived) was scrubbed from the internet). "They said it was incitement and a breach of the peace.
"No peace has been breached – there were two other people there and he's been perfectly quiet talking into his phone. [The police] said nothing about the court proceedings. It's very strange."
Tommy Robinson has been arrested in Leeds court for reporting on grooming gangs. More updates to follow pic.twitter.com/iEPDoNOKHM

— Caolan Robertson (@CaolanRob) May 25, 2018
Equally as disturbing are the implications of a court-ordered media ban, making it a criminal offense for news outlets operating in the UK to cover Robinson's arrest and incarceration. In a page straight out of George Orwell's 1984, several news outlets were forced to pull articles which were published before the ban.
Mass protests broke out following Robinson's arrest – the largest of which was a crowd of thousands in the UK, demonstrating at the gates of Downing Street to demand the release of the conservative activist.
Is the Mirror's definition of "hundreds" (https://t.co/NwW1CeWBB1) my definition of "thousands" (pic.twitter.com/F7aPUYNgKl)? Usual sh*t, different day. #FreeTommyRobbinson https://t.co/E4bmOqcJWd

— Joe D'Alessandro (@Concilium_Joe) May 27, 2018
Thousands protest the instant jailing of citizen-journalist Tommy Robinson, while social media goes dark after take-down notices. Is he out of order? Or does he have a point to make on free speech? Interesting Times for the UK. #FreeTommy #citizenjournalist pic.twitter.com/yk5qxCF3zT

— John Leet (@JohnLeetAuthor) May 27, 2018
At least six demonstrations were held across Australia on Sunday in Sydney, Melbourne, Perth, Canberra, Brisbane and Adelaide.
Free Tommy Robinson protest in Melbourne, Australia.#FreeTommy #FreeTommyRobinson#UK #US #MAGA #svpol #AFD #Dresden #Pegida pic.twitter.com/lqn8cdLy01

— Northern Lion? (@Swede_Watch) May 28, 2018
Hundreds demonstrated in the German cities of Berlin and Dresden, while German MP Petr Bystron has offered Robinson political asylum over concerns for his safety in prison.
"Tommy Robinson is a political prisoner, whose life is in clear and pressing danger. We have to do everything we can to make sure he is granted political asylum," said the office of conservative German MP Petr Bystron in a Saturday statement provided to the Gateway Pundit's Cassandra Fairbanks.
Ein guter Tag für Deutschland. Ein Albtraum für die #antifa. Für die #ZukunftDeutschland|s waren heute >5.000 Patrioten auf Berlins Straßen. Die Botschaft ist angekommen: die #AfD gibt unser Land nicht auf. @AfDimBundestag #AfDdemo #AfDwirkt pic.twitter.com/dcToRWOSHa

— Petr Bystron (@PetrBystronAfD) May 27, 2018
Dresden this evening.
German patriots marching for#TommyRobinson#FreeTommy #FreeTommyRobinson #UK #UKIP #MAGA #US #EU pic.twitter.com/tMJ5Aj6O47

— Northern Lion? (@Swede_Watch) May 28, 2018
A crowd even showed up at the British embassy in Tel Aviv:
Tommy Tommy Tommy Tommy Robinson Tel Aviv #FreeTommy pic.twitter.com/NK5FKOpGU1

— ??Dr Brian of London (@brianoflondon) May 28, 2018
Dutch MP Geert Wilders showed up at the British Embassy in The Hague to deliver comments.
"I am here on behalf of millions. Freedom of speech is being violated all over Europe and also in Britain. Restore freedom of speech." -Geert Wilders, Dutch MP
My statement in front of the British Embassy in The Hague today.

Free Tommy Robinson!
Restore Freedom Of Speech!#TommyRobinson #FreedomOfSpeech #FreeTommy pic.twitter.com/VLq0Xo6xWq

— Geert Wilders (@geertwilderspvv) May 28, 2018
Wilders penned a letter to the Dutch Minister of Foreign Affairs over the weekend with five questions about Robinson's situation.
Parliamentary questions to the Dutch Minister of Foreign Affairs about the arrest and safety of Tommy Robinson.#TommyRobinson #FreeTommy #FreeSpeech pic.twitter.com/4fSq94WoI8

— Geert Wilders (@geertwilderspvv) May 26, 2018
Robinson, 35, rose to fame as a conservative activist and founder of the English Defence League in Luton, Bedfordshire in 2009. After retiring from the party in 2013, Robinson has continued to advocate for British nationalism and against unchecked migration into Europe.