This article was contributed by James Davis with Future Money Trends.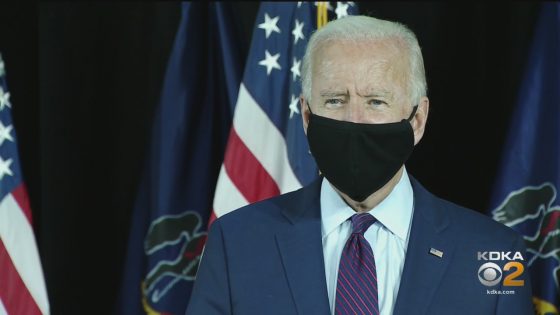 This week, we saw markets start to factor in something that many TRUMP SUPPORTERS are refusing to believe, which is that Joe Biden is DEFINITELY LEADING in most polls.
What the Trump supporters cling onto is that in 2016, all of these SO-CALLED GENIUS POLLSTERS were dead-wrong, not accounting for what are referred to as "Shy Trumpsters," which are supporters who will only admit the fact to themselves and sometimes their close family.
Failure to understand this IMPORTANT DYNAMIC caused the shock around CLINTON'S LOSS in 2016, and they believe history will repeat itself on November 3rd, which is less than a month away.
There is SOME MERIT to this, as the company that predicted Trump's victory back then is forecasting him to win in a TIGHT RACE!
Despite this being issued by the only polling firm that CORRECTLY CALLED the 2016 election, the wisdom of the crowds favors Biden right now.
For one, China's yuan just had an incredible week. The dollar dumped to THREE-WEEK lows, even though real rates actually climbed. What's behind these BIG MOVES? Well, if Biden wins, tensions with China are supposed to ease, which is another way of saying that HARDBALL NEGOTIATIONS will be canceled and the policy that wiped out the American middle class –  which is to allow the Chinese to compete with the West without respecting the rules of the game – WILL RETURN.
In the case of a Biden win, FAR LESS unpredictability is almost guaranteed. One thing about the past four years that was very noticeable is how aggressive Trump's governance style is. If he has a MISSION AT HEART, it will get done, even at the cost of short-term mayhem.
His supporters love this about him; his haters think it is borderline insanity to run a country in this manner.
Less unknown things and fewer LAST-MINUTE BOMBSHELLS reduce the need to be as LIQUID, therefore resulting in a weaker dollar.
So, a Biden victory is actually BETTER FOR METALS than a Trump one.
Trump has caused the dollar to strengthen significantly in his term compared with other fiat currencies. In 2018, the dollar actually had its BEST YEAR since 1969. This made the gold/silver ratio reach an all-time high of 123:1, so if you're LONG SILVER, Biden's policies will actually make you richer.
Regardless of who wins, Future Money Trends believes that the stock market will GO UP.
Our watch lists have brought TREMENDOUS WINS in March, June, over the summer, and just recently, in the SEPTEMBER CORRECTION.
With the INITIAL ONE, there are companies that are up over +70% now!
With the SECOND ONE, there are companies that are up over +50% now in less than FIVE MONTHS.
With the THIRD ONE, released over the summer, we believe that Ciena (CIEN), which we're personally big shareholders of with an entry price of $44.05, will see a massive long-term opportunity. Put differently, we think that in 2030, when you look at this holding compared with the indices, you'll potentially see a BIG GAP to its advantage.
In late August, anticipating a TERRIBLE SEPTEMBER, we issued a tech-centered watch list, OUR FOURTH ONE. One company is already up 15.3% for us. Ironically, the other companies are up MUCH MORE, +20% and even +30% and +40%, if one didn't wait for the price to drop to the proposed LIMIT ORDERS.
Being able to invest DESPITE the innumerable reasons NOT TO, which the gloom and doom crowd always finds, is probably what investors in the 1940s and EARLY 1980s had to DEAL WITH as WW2 ended and the 1970s inflationary nightmare ended.
The eternal mandate is to be a contrarian or SUFFER.