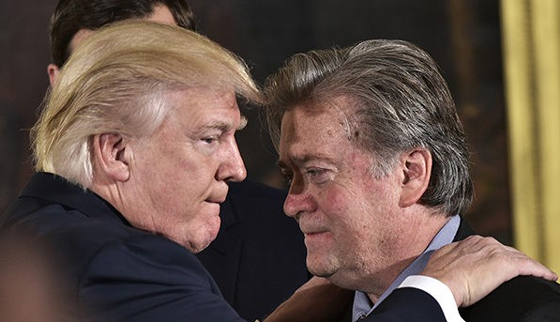 In a stunning downfall for a man once close to the very pinnacle of power, former chief strategist to President Trump, Steve Bannon, has stepped down from Breitbart News after a week of public infighting between the pair that included a sharply worded rebuke by the president.
The news was announced in a short article posted on the Breitbart website that claimed that Bannon and the right-wing news outlet would work together for a smooth transition during what has been a trying time for all involved.
"I'm proud of what the Breitbart team has accomplished in so short a period of time in building out a world-class news platform," Bannon noted in his statement.
For their part, the mainstream media couldn't be happier, with anti-Trump news network CNN actually providing live updates on Bannon's ouster as if it were some sort of natural disaster that Americans needed up to the minute coverage on.
CNN "reported":
A Breitbart employee, who spoke on the condition of anonymity because they were not authorized to discuss the matter, told CNN that "everyone seems stunned."

SiriusXM also announced it had ended its relationship with Bannon, saying in a statement, "Breitbart News has decided to end its relationship with Stephen K. Bannon, therefore he will no longer host on SiriusXM since our programming agreement is with Breitbart News."

Bannon took over at Breitbart after founder Andrew Breitbart passed away suddenly in 2012. A veteran of the U.S. Navy, Bannon has worked as an investment banker and dabbled in the film industry. But he really rose to public prominence when Trump named him CEO of his campaign in the summer of 2016. From there, he followed Trump to the White House, serving as chief strategist for much of 2017 before being ousted and returning to Breitbart.

But Bannon drew the ire of the White House last week when The Guardian revealed that author Michael Wolff quoted him in his book "Fire and Fury" as saying a Trump Tower meeting involving Donald Trump Jr., Jared Kushner, and a Russian lawyer during the 2016 campaign was "unpatriotic" and perhaps "treasonous."
At this point it is hard to tell what exactly to make of this startling news. On one hand, it did seem that Bannon had turned his back on the Trump agenda, especially when you consider the quotes he gave to a so-called journalist whose only goal was to write a book that would hurt the president.
With that being said, Bannon was and is an American patriot who helped bring the anti-globalist wave to the mainstream.
What do you think?