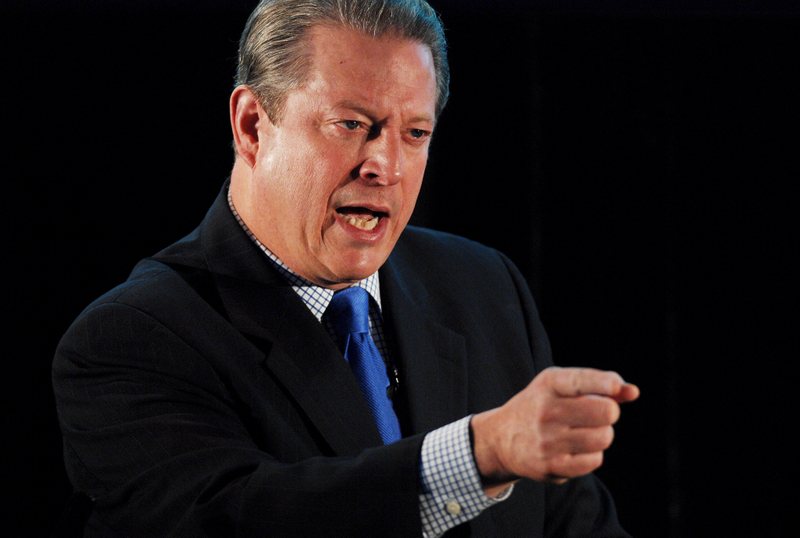 For those shocked by the recent announcement that Al and Tipper Gore will be divorcing, this may be the straw that broke the camel's back for Tipper:
In a bombshell new development in the Al Gore sex scandal — broken exclusively earlier today by The ENQUIRER — the Oregon District Attorney says there's "the possibility of a criminal prosecution."

In a statement just released by Multnomah County (OR.) D.A. Michael D. Schrunk, the official reveals that "our office was notified by the Portland Police Bureau that further investigation of this matter had been conducted by it in 2009 and we were provided with the reports from that further investigation."

Schrunk goes on to add: "If the complainant and the Portland Police Bureau wish to pursue the possibility of a criminal prosecution, additional investigation by the Bureau will be necessary and will be discussed with the Portland Police Bureau."

The D.A. says the police first briefed his office in late 2006 and early 2007 on the allegations but was told "the woman was not willing to be interviewed by the Portland Police Bureau and did not want a criminal investigation to proceed."

source: The National Enquirer
For Al Gore fans who may doubt the story, there is reportedly Clinton-style evidence:
Former Vice President Al Gore was accused of sexually attacking a woman in Oregon in 2006, according to police reports uncovered by The National Enquirer. Just as in the John Edwards scandal, the Enquirer's investigative team has alleged not only Gore's cheating but also possible criminal acts, and yet the mainstream media so far has refused to pick up the story. The Enquirer's story on Wednesday gives very specific details of the sexual assault allegations against Gore:

No criminal charges were brought against Gore, but the Portland police prepared a document marked "Confidential Special Report," which records the explosive allegations of "unwanted sexual contact" by Al Gore "at a local upscale hotel."
Secret police documents, a photo of the woman making the stunning charges and will reveal the shocking details about the pants she saved as evidence!
The 62-year-old former VP was in Portland at the time of the alleged incident – Oct. 24, 2006 – and we saw the $540 massage bill.

The Oregon sexual assault allegation comes days after other reports of Gore's cheating surfaced. The National Enquirer reported last week that the Gore divorce was caused by Tipper's jealousy over other women, including "an environmentalist named to a prominent cabinet position by Gore when he was vice president, a sexy Hollywood actress, a gorgeous massage therapist" and "a Tennessee Titans cheerleader."

source: Big Journalism
This man could have become President of the United States. He stands to make hundreds of millions of dollars from carbon tax credits and global warming related legislation. He's a liar, a cheater and according to this report, a criminal.
The American people, it seems, aren't the only ones he has tried to rape.