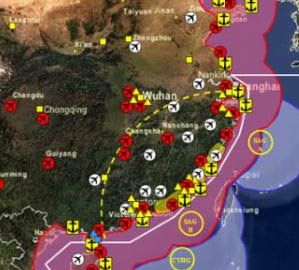 US Central Command (@Centcom), the unified military command responsible for security across the Arabian Peninsula and into the central Asia region, has had their Twitter account compromised. Cyber Jihadist claiming to be linked to ISIS were actively tweeting and uploading hacked war-game scenarios and other details that include phone numbers and email addresses for U.S. military personnel.
According to the hackers, the documents were obtained from a previous hack of Pentagon defense systems, as well as mobile devices owned by individuals working for or in conjunction with the military.
As of this writing, approximately one hour after the hack was first identified on the Centcom Twitter page, the account has been suspended and all linked data, including pictures releases of war game scenario and personal details of personnel are being wiped, presumably by U.S. National Security teams.
Among the data, which was retweeted hundreds of times before Centcom's Twitter account was suspended and shut down, the hackers released maps specific to China and North Korea including military objectives, operational areas, missile threat assessments, and even military units that would be responsible for taking control of specific targets.
The following Tweet sampling was captured in image form by the Washington Post, though the Tweets themselves have now been scrubbed from Centcom's account.
Among other things, the attackers modified Centcom's header and replaced it with their own image, which included an image of an ISIS rebel and "CyberCaliphate." A Caliphate is a form of Islamic government led by a Caliph, an individual who is purportedly a successor to the Prophet Muhammad.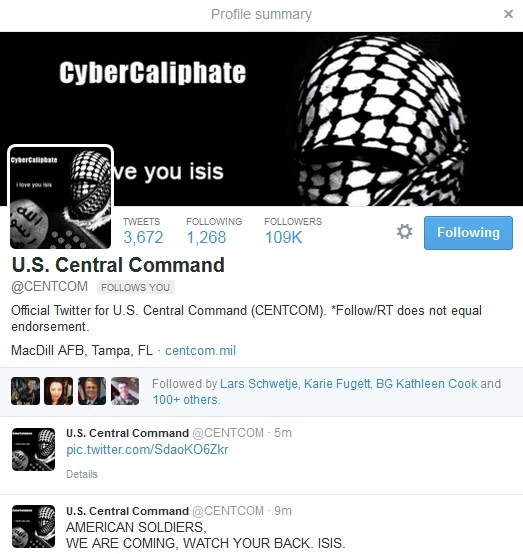 The following images were also captured before the Twitter page was suspended and included direct links and screen shots of names, email addresses, and phone numbers of military personnel.
"We know everything about you. your wives and children."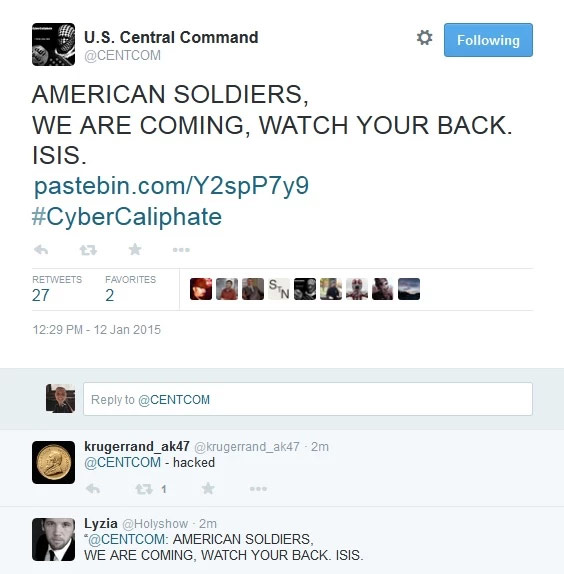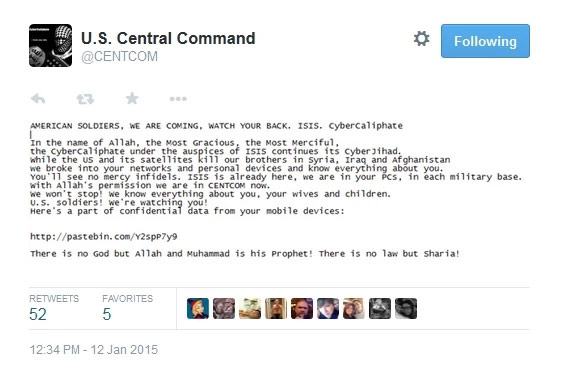 Among the hacked documents released by the "Cyber Caliphate" were war-game scenario maps for China and North Korea.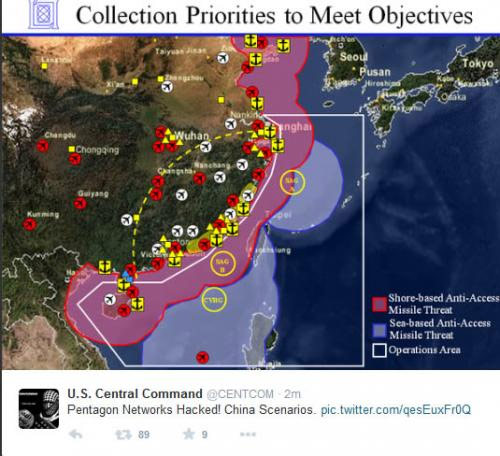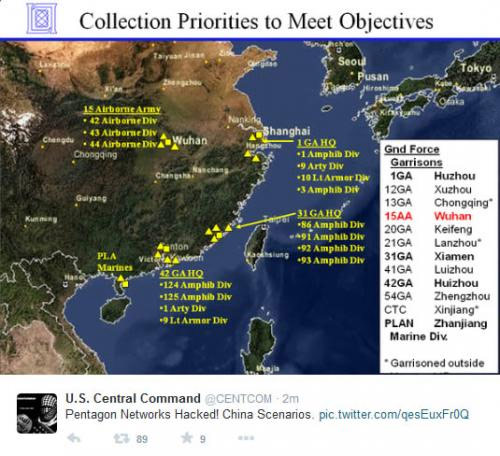 (via Zero Hedge)
Zero Hedge has also reported that Centcom's Youtube account was hacked simultaneously and the Jihadist group released numerous videos until it was also suspended.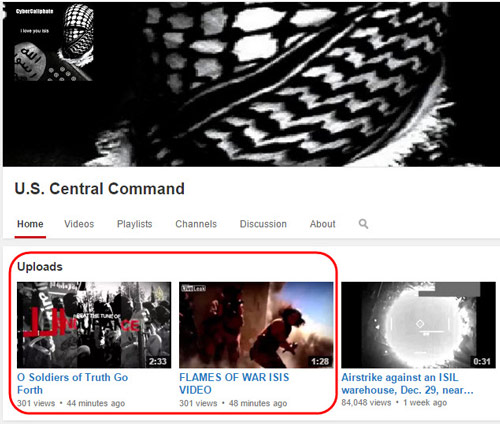 As noted by Zero Hedge, it is for days like these that the Executive Branch has been actively pushing for an internet kill switch.
U.S. Central Command has confirmed that their accounts were "compromised" and said it is "taking appropriate measures to address the matter."
It is not completely clear where the hack originated, though on the surface it looks like an attack from ISIS-sponsored terrorists.
One scenario that is not completely out of the question, is a possible Cyber False Flag designed to increase support for new internet control regulations, as well as a military response against Syria where intelligence agencies say ISIS rebels are currently headquartered.
The data would also be a boon for the Chinese military, who now knows exactly where and how the United States would launch a war against their shores, though the Chinese have spent years hacking the Pentagon and most likely already have this information.
Conspiracy theories will abound.
What do you think?