This article was originally published by Brandon Smith of Alt Market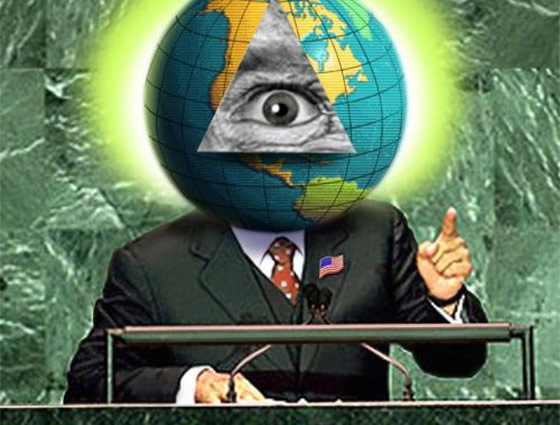 Globalists Are Building An Army Of Millennials To Destroy Sovereignty
Back in October of 2016 I covered an issue which I have been very concerned with for over a year now. In an article titled Global Elites Are Getting Ready To Blame You For The Coming Financial Crash, I outlined the basis for my belief that Donald Trump would win the U.S. election and why the U.K. Brexit was allowed to meet with success. Here is a quote from that article to give you a general sense of my position:
"I argue that the Trump tapes will be forgotten in a week and that they have no bearing whatsoever on the election. They are nothing more than bread and circus. Beyond the fact that really, almost no one cares what Trump said a decade ago. I argue that this election has already been decided. I argue that the globalists want Trump in office, just as they wanted the passage of the Brexit. I argue that they need conservative movements to feel as though we have won, so that they can pull the rug out from under us in the near future. I argue that we are being set up.

Again, the elites are openly telling us what is about to happen. They are telling us that if 'populists' (conservatives) gain political power, the system will effectively collapse. To what extent is hard to say, but let's assume that the situation will be ugly enough to influence the masses to reconsider the ideal of globalism as a possible solution. The elites are fond of the Hegelian dialectic and the philosophy of 'order out of chaos,' after all."
While Trump did indeed go on to "win" the presidency, I still believe that the basic foundation underlying my prediction has mostly fallen on deaf ears. There is a disconnect in terms of the globalist long game in people's minds. I think it is because many in the public do not consider the effects of geopolitical events on mass psychology. Or, to be more precise, many people, even in the liberty movement, forget that the ultimate goal of the globalists is not just to corrupt governments and monetary systems, but to corrupt our collective mindset.
As a perfect example, I will link to the latest globalist lunacy from the Pope, Jorge Bergoglio, in which he attacks libertarianism (true conservatism) as a dangerous form of individualism that threatens the fabric of the new and more progressive collectivist world.
In terms of Western culture, recent events would indicate that globalists hope to enlist the newest generation to reach "maturity" (and I use that term loosely), the millennials, as a weapon to deal the death blow to conservatism. If not directly, then indirectly through propagation.  That is to say, if the globalists can't kill us off immediately, they will try to breed us and our ideas out after bringing down the hammer of economic and social crisis.
When I discuss what essentially amounts to a "war on conservatism," what do I mean? Well, first let's consider what it is about conservatives that presents a threat to the globalists…
Limited Government
The basic core of conservative thought rests on the concept of limited or small Constitutional government. If you don't believe in small government, you are not a conservative. Big (and centralized) government is the most vital tool in the hands of globalists. Without it, they would not be able to accomplish a single item on their agenda.
Big government requires big money. Thus, the central banking syndicate becomes "necessary" to the life of the nation or society because they have positioned themselves to provide the financing and fiat that greases the big government wheels. In a limited government system, central banking becomes irrelevant. It is therefore essential that globalist financiers diminish or destroy conservative principles of limited government because they represent a primal threat to the interdependent behemoth system they hope to create.
Sound Money
True conservatives are sound money champions. This principle fell by the wayside for many decades but has made a resurgence since 2008 as more people have been awakened to the failings of central banking and fiat money. Sound money is basically money backed by a tangible commodity, money that cannot be created out of thin air. If it can be created out of thin air, it is not sound money.
Obviously, the very existence of a true sound money movement horrifies the globalists. Without fiat printing or digital currency systems (which can be created and re-created ad infinitum), the future of a global currency system, the pinnacle goal of the globalist economic scheme, is all but impossible.
Free Thought And Free Expression
If you are in the business of controlling the thoughts and opinions of other people, then you are not a conservative. This is where we find distinct misconceptions, by liberals most of all, as far as what free expression is.
For conservatives, this means that if you are in a publicly funded space or on private property with permission of the owners, you should have the right to say whatever you like whenever you like (this includes so-called "hate speech", millennials and liberals). You should be able to make grievances known and to discuss those grievances in a constructive manner. It does not matter if your thoughts are offensive to some people; their feelings are meaningless compared to your freedom to speak in that space.
Leftists seem to think that freedom of expression means being allowed to invade the sanctity of other people's private property or invade a public gathering with the intention of disrupting the free speech of others that they disagree with. My favorite argument presented by leftists is their argument that liberty proponents cannot kick them out of events or off of websites because "that would be a violation of our own principles and their free speech." They don't seem to understand the different between private and public or destructive and constructive. My other favorite argument leftists often use is their argument that it is an act of free speech when they disrupt other people's free speech.
Hopefully you can see the difference between the two ideals. Leftists today seek to control speech and expression they see as "aberrant" or "evil." Conservatives defend everyone's right to speak as long as they respect the nature of the property they are standing on and do not abuse the owners of that property — this includes taxpayers, the owners of public property.
Freedom Of Association
This is a very simple and straightforward liberty that has all but been crushed in our country today. Conservatives have this crazy idea that you should not be forced by government to associate with people you do not want to associate with. It does not matter why you don't want to associate with them. The "why" has no bearing whatsoever. We feel that logic should dictate the situation. If you don't want to associate with someone, why would they want to associate with you?
But, for some reason, certain people within our culture and within government believe that denying anyone association is discrimination, and, in a progressive and interdependent society, discrimination is unacceptable. I happen to think the ability to discriminate on an individual level is necessary to a healthy society. Discrimination only becomes dangerous when it is backed by government power.
The Right To Self Defense
Many people are so disconnected from their own survival that the notion of "self defense" is alien and terrifying to them. They pay taxes so that "professionals" can handle their security for them, after all. Why should they need the means to secure themselves and their loved ones?
Well, what if the professionals you pay taxes for suddenly turn on you? Or what if they simply quit en masse one day? What if your attacker is 60 seconds from harming you and the closest law enforcement officer is six minutes away? In a conservative society, EVERYONE acts as security for themselves and others if needed.
Globalists need to encourage a culture in which the population is always reliant on government for everything, including their own safety. The most effective form of control comes not through force, but through permission. The most successful tyranny is the one that the people demand rather than the one people barely tolerate.
Sovereignty
All of these principles coalesce into the root principle of sovereignty — the inborn right to self determination. This might take the form of individual action or voluntary group action based on the freedom of association. A single person might seek to live on his own away from others in his own way, and he absolutely has the right to do this even if it annoys people for whatever crazy reason. A large group of people also have the right to cooperate, to build a system or even a nation based on a particular set of shared values and to have their borders respected or avoided by those with different values.
Conservatism, at least in its traditional form, is the vanguard of sovereignty. Without conservatives, sovereignty dies.
Now that we have briefly summarized the conservative archetype, consider for a moment the predominantly progressive millennial generation; what values do they hold? This is not to say that all millennials think the same way, but what about the majority? In 10 years, what would a country like the U.S. look like when they move into power?
The statistics indicate that the U.S. would be even more socialist than it is today, bordering on communist. A paradise for pushing forward the globalist agenda.
When you take into account the fact that Bernie Sanders, a staunch socialist with Marxist tendencies, garnered more support from young voters during the last election than both Clinton and Trump combined, you can see the problem here. Sanders enjoyed nearly 80 percent of the millenial vote in many states, and this tends to correlate with what we have seen in other western nations such as the U.K., where over 70 percent of the young vote was AGAINST the Brexit campaign to leave the globalist EU project.
Also take into account the establishment push to instill millennial academia with open borders propaganda.  In this article for the Washington Post, the president of George Mason University in Northern Virginia argues that open borders are the source of "innovation" and a better economy.  Open borders philosophy cannot coexist with sovereignty.  Sovereignty being a foundation for individualism and nationalism; open borders being a foundation for forced collectivism and a one world system.  For open border ideology to continue forward, all sovereignty must be eliminated.
Here we find the socialist entrenchment within the younger population. To question its validity among them is simply not done. Through most of Europe, for example, to even describe one's self as "conservative" is considered highly taboo. Many sovereignty activists there will instead list themselves as "classical liberal" (conservatives).
In the U.S., the last true bastion of hardcore conservatives, there is a little more hope as Generation Z teens are showing signs of a conservative resurgence and a little more sense than their older millennial brothers and sisters. This is why I believe the globalists are focusing on the millennial subset; the millennials experienced the American world when they were children at its height pre-2008 and conjured grand dreams of career, success and technological ease. After the crash and subsequent end of college degree relevancy, they now feel jilted and put upon. Clearly "free markets" are the culprit and revolution is the answer.
Generation Z is growing up in the new and downtrodden economic landscape. They are accepting that harder work is necessary and that more freedom is paramount instead of demanding that entitlements be given to them. So, it would appear that the the globalists have a small window of time to stage a coup against conservative philosophy, install a new millennial generation as the captains of the ship and discourage Generation Z from continuing on the path towards what they consider a "terrible and ignorant" world view.
If you think that perhaps I am exaggerating the gravity of the situation, or that I am applying too much conspiracy to an otherwise random social development, I would like to cite Facebook mogul and globalist cabana boy Mark Zuckerberg, who in a recent speech to Harvard graduates asked them to "fight isolationism and nationalism" which he equated with "authoritarianism" and to support "openness and global community."
"This is the struggle of our time. This is not a battle of nations, it is a battle of ideas," Zuckerberg stated.
Zuckerberg's rant is just the most recent example of this propaganda in action. As I have been warning, the globalist strategy is to destroy opposing ideas, not just opposing groups. And clearly, they want to exploit the millennials to do just that.
After 8 long years of ultra-loose monetary policy from the Federal Reserve, it's no secret that inflation is primed to soar. If your IRA or 401(k) is exposed to this threat, it's critical to act now! That's why thousands of Americans are moving their retirement into a Gold IRA. Learn how you can too with a free info kit on gold from Birch Gold Group. It reveals the little-known IRS Tax Law to move your IRA or 401(k) into gold. Click here to get your free Info Kit on Gold.
If you would like to support the publishing of articles like the one you have just read, visit our donations page here.  We greatly appreciate your patronage.
You can contact Brandon Smith at: [email protected]