Many of the following reports have been compiled by The Daily Sheeple.
Updated 04-16-13 10:40 CST:
Boston Marathon Arrests in Pakistan, Afganistan (link)
An al-Qaida-allied group in the Gaza Strip claimed to WND that there have been arrests of jihadists in both Pakistan and Afghanistan as part of the probe into yesterday's Boston Marathon explosions.
Updated 04-16-13 9:10CST:
FBI says "currently no clear suspects" in bombing (link)
Bill Hemmer of Fox News reported this morning: Revere, Mass. apartment search yielded no evidence of involvement in bomb plot; Saudi national cleared of wrong doing (no web-based source link available)
Still unclear: How m any devices were there? Two detonated… two additional unexploded bombs found? (link)
UPDATE 04-15-13 22:30CST
…National Guard Deployed on Streets of Boston

…460 Guard members providing security (link)
 Staging area: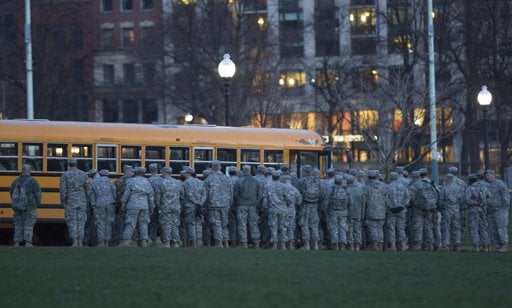 Staging area video:
Military personnel and law enforcement tactical teams prepare to shut down 12 block area surrounding bombing (source):
…Police, DHS, FBI, ATF Reportedly serving search warrants in Revere, Mass… (link)
…Report that police have detonated a third device in Boston… video:
***RAW VIDEO***
…CNN Analyst Speculates 'Right-Wing Extremists' Could Be Behind Marathon Bombing – see video.
…A woman holding several bags was telling runners Saturday (April 13) that they were going to die – read more.
… UM Coach gives eye-witness report of bomb-sniffing dogs, told "just a drill" :
University of Mobile's Cross Country Coach, who was near the finish line of the Boston Marathon when a series of explosions went off, said he thought it was odd there were bomb sniffing dogs at the start and finish lines."They kept making announcements on the loud speaker that it was just a drill and there was nothing to worry about," Coach Ali Stevenson told Local 15. "It seemed like there was some sort of threat, but they kept telling us it was just a drill."
…Report: No suspect in custody… (link)
…CNN's Wolf Blitzer Suggests Tax Protesters / Patriots Day May be to blame. VIDEO: http://www.youtube.com/watch?v=yJXo2UnMt14 
… Of Interest from Ed Thomas at DailySheeple.com who received an email from a reader:
Hello Sheeple staff. I have to point out one thing that I noticed on today's incident in Boston..It was the 117 th race for Boston.. turn the numbers around 7/11 this is a hallmark of the Illuminati… please look into this…
…Boston PD Immediately Shut Down Cell Phone Network city-wide (link)
…OFFICIALS MAY HAVE HAD PRIOR KNOWLEDGE:
A startling report from Paul Joseph Watson has revealed that officials may have had prior knowledge of an impending terror attack.
An eyewitness to the two explosions at the Boston Marathon today said that a "drill" was repeatedly announced before the bombs exploded and that he "thought it was odd" bomb sniffing dogs were in place before the blast.
***Pictures at the scene: Warning Graphic Content***
Images via The Atlantic
Stay tuned as more details will be added as they come in.