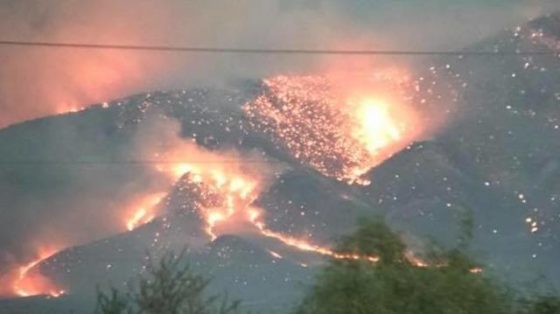 A border patrol agent's baby gender reveal party is responsible for starting a 47,000-acre wildfire. The off-duty border patrol agent wanted an explosive gender reveal party for his family and friends, but he ended up igniting a wildfire that spread to Coronado National Forest in Arizona.
Dennis Dickey, who is 37-years-old, of Tucson, Arizona, now has to pay more than $8 million in restitution, starting with a $100,000 initial payment and monthly payments thereafter, the Department of Justice said in a statement.
Dickey pleaded guilty Friday to a misdemeanor violation of United States Forest Service regulations for igniting the Sawmill Fire, the statement said according to CNN. He agreed to a sentence of five years of probation and will make a public service announcement with the Forest Service about the cause of the blaze.
Dickey's gender reveal party was on April 23, 2017, according to CNN affiliate KGUN-TV. Expectant parents often throw similar parties to reveal to their family and friends the gender of the baby that will be coming into the world. In this case, Dickey's plan was to shoot a rifle at a target containing Tannerite, a highly explosive substance that would have blown up to reveal either blue powder if the baby was a boy or pink powder if the baby was a to be a girl. Dickey did manage to shot the target, causing it to explode and started a fire that spread and resulted in what was known as the Sawmill Fire, the Department of Justice said.
Spurred on by unusually high winds and lower-than-average rainfall, the fire spread incredibly rapidly and was difficult to contain. By the time it was fully contained over a week later, the fire Dickey started had done around $8 million worth of damage. Dickey immediately reported the fire to law enforcement and admitted that he had been responsible for starting it, the affidavit says according to Syracuse.
During a court appearance on Friday, Dickey told the judge that the fire "was a complete accident." He added, "I feel absolutely horrible about it. It was probably one of the worst days of my life."