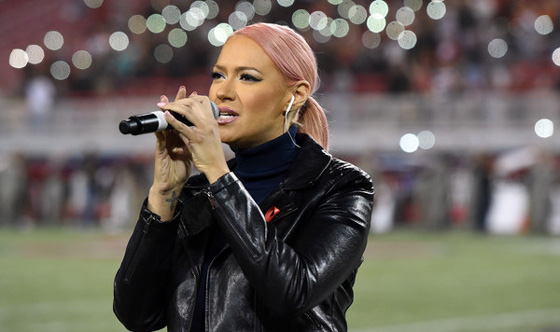 Well known singer and former band member of the Pussycat Dolls Kaya Jones may be preparing an all-out war on Hollywood movie and music executives.
As Hollywood's elite meet to distance themselves from Harvey Weinstein sexual allegations and further cover-up other improprieties engaged in by their philandering members, Jones took to Twitter to explain that she has repeatedly spoken about the abuse she and her band mates had to endure while rising to the top of the music food chain, only to be completely ignored and threatened.
According to Jones, the Pussycat Dolls were nothing more than a high-end prostitution ring, as they were forced to sell their souls and bodies to power brokers in the entertainment industry. And now, as the Harvey Wiestein scandal is beginning to explode into accusations by even more Hollywood women against the men who forced them to make choices between their morals and their careers, Jones says she has details of predatory sexual behavior and abuse, including names and timelines, that she logged in a personal journal.
Taking to Twitter in a stream of messages, Jones says that she understands that she is targeting the very top of the entertainment industry and that she has prepared a document that has been stashed with a close confidante in case she ends up dead.
I hope all you Hollywood elites are a little nervous tonight.Who knows maybe tomorrow your family & friends will find out who you really are

— KAYA (@KayaJones) October 13, 2017
Yup!&this sinking ship?is a titanic of power.So get ready for everything around it/ties to it goes down with it from the suction???Say bye?? https://t.co/uJycsaLlN3

— KAYA (@KayaJones) October 13, 2017
Tried to silence us,made us stronger.Tried to drug us,but we were wide awake.Tried to blacklist us,but fans followed.We arent kids anymore

— KAYA (@KayaJones) October 13, 2017
The children you messed with that survived the abuse, we are adults now.Are you ready old ones to fight?Cause you all are looking mighty old

— KAYA (@KayaJones) October 13, 2017
My truth.I wasn't in a girl group. I was in a prostitution ring.Oh & we happened to sing & be famous. While everyone who owned us made the $

— KAYA (@KayaJones) October 13, 2017
How bad was it?people ask-bad enough that I walked away from my dreams,bandmates&a 13 million dollar record deal.We knew we were going to#1

— KAYA (@KayaJones) October 13, 2017
I want the den mother from hell to confess why another 1 of her girl group girls committed suicide?Tell the public how you mentally broke us

— KAYA (@KayaJones) October 13, 2017
To be apart of the team you must be a team player.Meaning sleep with whoever they say.If you dont they have nothing on you to leverage

— KAYA (@KayaJones) October 13, 2017
Yes I said leverage. Meaning after they turn you out or get you hooked on drugs they use it against you.Correct.Victimizing the victim again

— KAYA (@KayaJones) October 13, 2017
That's why I have so much respect for our military. I've been through war. But my scars you can't see. At least real war is honest

— KAYA (@KayaJones) October 13, 2017
Why don't we report it? Because we are all abused! I personally have been warned if I tell I will … you know end up dead or no more career

— KAYA (@KayaJones) October 13, 2017
Well …killing you or killing your soul what's the difference. You do it for them.A teenagers go to jail for less. Will Hollywood?

— KAYA (@KayaJones) October 13, 2017
Anyone in Hollywood care to talk about the industry's sins? Nope no one …. pic.twitter.com/PjgLkXdF8V

— KAYA (@KayaJones) October 13, 2017
I told press in Hollywood about my abuse & they did nothing. I'm still dealing with Vegas. Talk about back to back. Vegas&Hollywood man ?

— KAYA (@KayaJones) October 13, 2017
Look up how many times I've spoken. Trust me. No one cared to listen. Everyone knew

— KAYA (@KayaJones) October 13, 2017
In 2004 I told hollywood executives, 2005-2006 I told press. In 2011 I spoke up again. Hope you can hear me now Media in 2017! Way to go??

— KAYA (@KayaJones) October 13, 2017
I wonder if any other victims kept a journal like I did? Oh yes I kept a journal ? with timelines ….

— KAYA (@KayaJones) October 13, 2017
Because I'll be damned if I'll sit back & watch them take advantage of the public & other young women again. No reunion on my watch ⌚️ https://t.co/sfbPEwuWyE

— KAYA (@KayaJones) October 13, 2017
I have a letter ready to go if anything happens to me and who would do it.Wrote it long ago and with safe people to send if anything happens

— KAYA (@KayaJones) October 13, 2017
Yes. I'm working on it. There's more then one name.

— KAYA (@KayaJones) October 13, 2017