In a previous story we noted that the Center for Disease Control (CDC) says that everyone should avoid oil and spill-affected areas.
Casey Nunez, a Louisiana resident, visited Pensacola beach in the last 48 hours.
He reports that 400 people on the beach became sick with a variety of problems like blisters, sore throat and lung problems, symptoms that Nunez himself says that he experienced, going as far as to show the blister on his tongue in the video below.
Nunez says that Florida officials, fully aware of the prior day's incident involving sick beach goers, have actually deemed the beaches safe in Pensacola by changing the red danger flags on the beach to yellow, with Beach Patrol reportedly saying that they have everything under control.
Nunez also reports something we've discussed in prior articles regarding contamination of drinking water supplies as a result of this oil leak and dispersants being used for clean-up. In addition, the boats being used to help with the oil spill are docking in the Mississippi river and Nunez says this will lead to contamination of the water supply:
[Full video is posted below]

My biggest concern…this confirms my theory [Nunez holds up vial of crude/sludge]…I have been saying from day one that all coated ships are coming up the mouth of the Mississippi river and directly through metro New Orleans residents' drinking water source.

Now they're telling us they're cleaning these ships at six stations. Sure they are. They're cleaning what you can see at and above the water line. Beyond that, short of dry docking, they can't clean this thick sludge, this crude, from the bottoms of these ships.

It's only a matter of time people in New Orleans are going to start getting sick.

You need to know what's being done and what's not being done.
If these reports are to be believed, and in our view, they at least deserve our attention, then we have a very serious problem already and the government doesn't want to talk about it for fear of economic and political backlash. People are already getting sick while swimming at beaches, as well as from consuming food in affected areas. It's possible that some water supplies have already been contaminated.
We have yet to have an oil hurricane or storm surge that will really bring the toxicity inland, to not only water reservoirs, but agricultural crops.
In regards to contamination from boats docking near drinking water sources, the Environmental Protection Agency (EPA) is reportedly deploying decontamination centers across beaches in Florida and other affected areas.
While the risks with visiting Florida beaches seem obvious, officials in the state continue to say that the beaches are safe; this includes the Governor of Florida:
Despite health advisory signs that have been posted as early as June 10, Florida Governor Charlie Crist told CBS News on Saturday the water is safe and people should not worry. "It is safe," Crist declared, "there isn't a toxic nature to it that is detrimental to anybody. It is much more of a nuisance than anything else at this point."
While we believe that individuals should have the right to choose if they want to swim in toxic waters, it is the responsibility of the Governor, Beach Patrol and emergency officials in the State of Florida to advise people of the health risks, which by all accounts, they are failing to do. When people start experiencing serious, long-term respiratory problems or developing cancers, we suspect that these same officials will blame BP rather than point the fingers at themselves for having lied to the citizens of their states.
Would you let your children swim in this?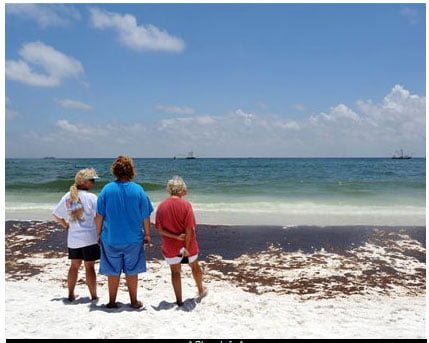 source
The above is a recent photo of Pensacola Beach. Obviously, the oil is already on the shores. But what we don't see is the chemical dispersant, which is likely mixed in. How is it possible that the Governor and Beach Patrol deem this a safe environment for humans?
Video: Casey Nunez Discusses Health Problems