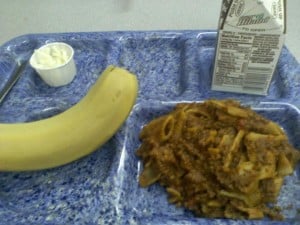 One thing is guaranteed…anytime the government moves to restrict something, be it alcohol during prohibition, marijuana in the drug war, gold after 1933 confiscation, black markets always emerge.
In the case of the tight school lunch restrictions being put into place in schools across the country, enterprising young bootleggers are smuggling in chocolate syrup and selling it by the squeeze.
Michelle Obama championed the federal Healthy, Hunger-Free Kids Act as part of her Let's Move campaign.  The act has been put into place to combat childhood obesity but it's leaving a lot of kids…well…HUNGRY.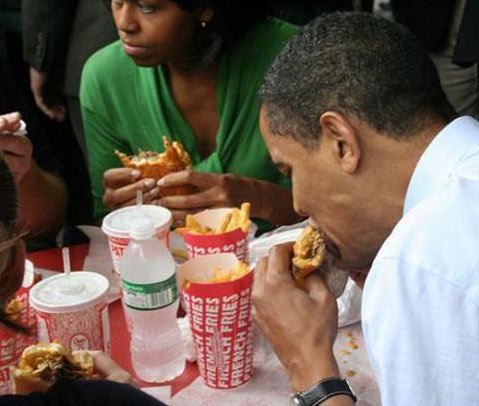 Image: Mrs. Obama is not leading by example. The Obamas enjoy a burger and fries – does this meal exceeds the 850 calorie allotment laid out by the school lunch policy?
School lunches have undergone such a drastic transformation that students across the country are complaining of hunger pangs throughout the day.  Portion sizes have been reduced, dessert and flavored milks have been banned, and, in the name of financial easing, the prices of these smaller lunches have been increased.
USDA Deputy Undersecretary Janey Thornton blames the kids for the reported hunger pangs. "One thing I think we need to keep in mind as kids say they're still hungry is that many children aren't used to eating fruits and vegetables at home, much less at school. So it's a change in what they are eating. If they are still hungry, it's that they are not eating all the food that's being offered."
The kids are fighting back.  Student athletes across the country are complaining that their caloric needs are not being met by the enforced diet. No adjustments are being made based on energy output – the food offerings are the same across the board.  Kids report only drinking the milk and throwing out the plates of hummus and black bean salad in revolt, according to a student in South Dakota. Serving sizes are only slightly adjusted by the age of the kids – the new rulebook sets calorie maximums for school lunches — 650 calories for elementary-schoolers, 700 for middle-schoolers and 850 for high-schoolers.
Nutrition Nannies, a group on Facebook, is using the power of social media to join the revolution by asking for photo submissions of school lunches across the country. One picture shows  one cheese-stuffed bread stick, a small dollop of marinara sauce, three apple slices and some raw spinach.  The student who snapped the photo asked why there was no meat in the sauce and was told by cafeteria employees that it would "put them over the protein allowance."
Students in  Kansas, with the help of some teachers, indulged in a creative Youtube protest with this video-gone-viral:
Lyrics:
Give me some seconds
I, I need to get some food today 
My friends are at the corner store 
Getting junk so they don't waste away
My lover ate her 2 grams of meat 
Just about to starve
My bread was taken by some school bully 
Askin' bout s'more 
And i know i gave up on food months ago 
I know i'm trying to forget it 
But between the milk and feta cheese 
The pains in my tummy sing 
You know I'm trying hard to find
nourishment…
Expect to see more canny young capitalists smuggling in candy bars, single serving packages of chips and other contraband.
Expect to see brown-bag protests as more students begin bringing their lunches from home.
And like any prohibition, expect to see disciplinary crackdowns on the kids that refuse to comply with the limited "rations" being offered.
---
Contributed by Kimberly Paxton of www.TheDailySheeple.com.
Kimberly Paxton, a staff writer for the Daily Sheeple, is based out of upstate New York.