This article was contributed by Tom Beck at Portfolio Wealth Global.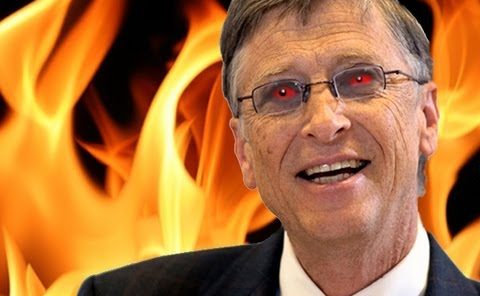 The world has come a long way since the days of United States v. Microsoft Corporation, when everybody thought Bill Gates' worst alleged crime was violating antitrust policy. Today, the corporate press treats Bill Gates with kid gloves as if he's just naïve about politics and regulations, but his overreach into global affairs has been well documented.
Bill's been busy pushing his personal agenda for many years now – though the mainstream press keeps this on the back burner if they even bother to report on it at all. It's well-known that Bill Gates' father was on the board of Planned Parenthood and Bill's foundation donated $1,730,000 to the International Planned Parenthood Federation.
Portfolio Wealth Global has studied the life of Bill Gates closely.
The Planned Parenthood connection fits into Bill's agenda, where he's admitted that he wants to implement population reduction measures in third-world countries. The problem is that Gates knows how to speak persuasively, framing extreme population control measures as "philanthropic efforts."
This underscores a much deeper and more disturbing strain in Gates' master plan, which encompasses not only population reduction but also mega-scale, technology-enhanced surveillance tactics – and the common thread, as always for Bill Gates, is personal gain.
Gates' immunization efforts have already failed miserably, as the government of India abruptly cut off ties with the Bill & Melinda Gates Foundation in 2017, essentially refusing to accept their funding capital for a massive vaccination program. India's immunization advisory body reportedly suspected conflict of interest arising from the foundation's connection with pharmaceutical companies.

Then there was the $121 million completely wasted by the Bill & Melinda Gates Foundation in a failed attempt to bring an anti-HIV vaccine to South Africa. After all that money was spent, the research indicated that the proposed "vaccine" was no more effective than a placebo. The trials for this failed vaccine started back in 2016 and were finally put to rest in February of this year.
All of this was just preparation for something much bigger and far worse. The Bill & Melinda Gates Foundation was involved in the so-called "Event 201" simulation, in which a computer simulation of the spread of a fatal virus suggested that 65 million people would die globally.
This "training exercise" took place in October of 2019, long before the coronavirus was the topic of conversation in the United States. Truthfully, the pandemic wasn't discussed in earnest in America until February, yet Bill's foundation was planning and preparing a simulation of what might be considered the most evil of "population control" schemes.
But this goes beyond a plan to depopulate the world – there's also a surveillance component to Gates' agenda. Old Bill has always been a techie, so his Orwellian version of a police state naturally involves a "broad" use of "digital tools" to monitor the population.
Bill figures that everybody can be tracked through the smartphones they carry with them everywhere, so he wants to implement "apps that will help you remember where you have been; if you ever test positive, you can review the history or choose to share it with whoever comes to interview you about your contacts."
Exactly who would "come to interview you about your contacts?" Would it be the government, or perhaps an enterprise controlled by Bill's foundation? Wait, it gets even more dystopian, as Gates seems to like the idea of "allowing phones to detect other phones that are near them by using Bluetooth and emitting sounds that humans can't hear."
That's how total population control starts: tracking of each individual that's undetectable because it's beyond the range of human hearing.
Moreover, Bill Gates suggests that "if someone tested positive, their phone would send a message to the other phones…" Say goodbye to privacy and hello to Orwell's 1984.
Gates also wants to get into your DNA – literally. He's now "excited" about a vaccine that would actually alter your genetic code, along with your immune system. This would be the final nail in the coffin for your basic human rights: first "contact tracing" through invasive technology, then control of your body and genes is given up – Bill's got a vision, alright, and we're all in the crosshairs.