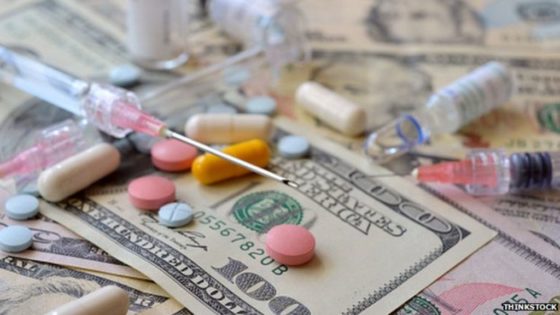 A major antitrust lawsuit against some large drug companies accuses Big Pharma of working together to raise the cost of generic drugs. These drugs have had their prices increased by 1,000 % or more.
The drugs in question were prescribed to treat conditions such as epilepsy, heart failure, anxiety, insomnia, hypertension, diabetes, asthma, arthritis, and more. The lawsuit alleges that drugmakers colluded to undermine that competition, harming patients and the taxpayers.
Attorneys general for 45 states, plus the District of Columbia and Puerto Rico, are alleging that nearly 20 companies that manufacture generic drugs illegally collaborated with competitors to jack up the prices for those prescription pharmaceuticals and divvy up markets to limit competition, according to a report by Business Insider.  More than a dozen of these generic drug manufacturers accused of raising prices on United States consumers in an alleged illegal price-fixing case are asking a federal court in Philadelphia to impose a gag order on investigators.
 The companies, in a motion filed Tuesday about the expansion of the sweeping, ­multistate civil inquiry to more than 16 companies and 300 drugs, complained about a "media blitz" (a news conference this week by the attorneys general from Connecticut and Louisiana) although this story has gained very little attention, according to a December 9 article in the Washington Post. "Certain plaintiffs continue to appear far more interested in litigating their claims in the media rather than before this court,'' the companies said in their request that Judge Cynthia M. Rufe tell all parties in the case to refrain from speaking outside court.
The move to stifle public comment highlights the extreme stakes and sensitivity for the companies accused of illegal conduct. Overbilling as part of the alleged price-fixing case is well into the billions, and some companies could be on the hook for big damages if the case reaches trial. So killing this story in the media is imperative to those wielding the money and buying political power.
https://www.shtfplan.com/headline-news/big-pharmas-war-on-our-children-1-million-kids-under-age-6-on-psychiatric-drugs_02202018
Business Insider is the first to report on the unredacted complaint, which was filed under seal in the Eastern District of Pennsylvania, revealing for the first time the communications that allegedly took place between employees of rival companies, including massive firms like Teva, Novartis' Sandoz, and Mylan.

The conversations paint an in-depth picture of close, frequent contact about pricing and market decisions by way of LinkedIn, phone calls, text messages, and emails — all with the goal of hiking prices on a broad range of generic drugs, the lawsuit claims. –Business Insider
There are not many media outlets willing to bring light to this lawsuit or the harm these companies are doing to the American wallet and health care system.