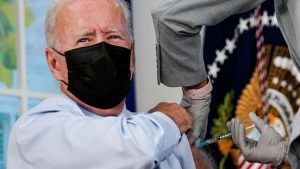 Joe Biden has said that if a new COVID-19 variant emerges, the government has the ability to distribute new vaccines within 100 days. "I cannot promise a new variant won't come, but I can promise you we'll do everything within our power to be ready if it does," Biden said.
It's hard to not take this as a warning. During yesterday's State of the Union address, Biden focused on the scamdemic, even though it's long over to most people. "If necessary, we'll be able to deploy new vaccines within 100 days instead of many more months or years," the president said.
However, Biden said the U.S. has reached a new moment in the pandemic, with severe cases of Covid declining to a level not seen since July. The president said most Americans can now go about their lives mask-free under new guidelines issued by the Centers for Disease Control and Prevention last week. Biden said more of the country will also meet CDC guidelines for safely ditching masks in the next two weeks. –CNBC
Free people have been going about their live mask free since this scamdemic became the only thing the mainstream media could talk about. Biden insisted that everyone brace themselves for another variant too.
President Joe Biden has urged Americans to prepare themselves for new coronavirus variants as he launched a new initiative aimed at helping COVID-19-infected people to get tested at a nearby pharmacy and receive free antiviral pills on the spot. –Business Standard
It really makes one wonder what they have planned next for us. How many more variants before we get the one that's going to do actual damage? When is it coming to the point that people will actually see a pandemic with their eyes, and not just on the TV so the ruling class can force shots on all of us?
This comes across as a warning and almost a promise that they will have another variant and another vaccine. Never put anything past these sociopaths. They want ultimate control and will stop at nothing to get it.