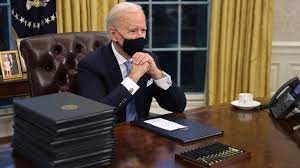 Joe Biden claims that the world is now witnessing the "beginning of a Russian invasion of Ukraine." He also joined in the ratcheting up of tensions by issuing sanctions on Russia over its "invasion."
Biden's remarks followed an address from Russian President Vladimir Putin to the Russian public on Monday evening, when the ruler announced he was recognizing the independence of two Russia-backed separatist areas in eastern Ukraine's Donbas region: the self-proclaimed People's Republics of Donetsk and Luhansk (DNR and LNR). This prompted a set of sanctions from Western countries, including Germany halting approval of a major gas pipeline from Russia, according to a report by ABC News. 
Ukraine's military has also announced that it has begun calling up some reservists in response to an order from Ukrainian President Volodymyr Zelensky. About 36,000 troops aged 18-60 will be called to follow the commands of their master and engage in a war. Zelensky emphasized that it was not yet a full mobilization but just the "active reserve," or troops with combat training. He also said the order was necessary because Ukraine's military now needs to be at "heightened readiness" for any changes in the situation on the ground with Russia.
The Ukraine Security Council has also called for a nationwide state of emergency following Putin's move. According to a report by Aljazeera, the measure, which must be formally approved by the parliament, requires stepped-up document and vehicle checks among other measures, the council's secretary Oleksiy Danilov said on Wednesday.
Tensions continue to rise as the rulers begin to demand others use force and violence to harm their fellow humans living on a different plantation.
Biden Says Ukraine Invasion Risk "Very High"; Russia Expels US Deputy Amb., Demands US Leave Eastern Europe
Government troops in front-line trenches in Ukraine's east said on Monday heavy weapons fire from Russian-backed separatists had intensified to provoke all-out conflict. This comes as rulers in the U.S. continue fear-mongering of Russia seeking a pretext for a full-scale invasion of Ukraine, according to Reuters.