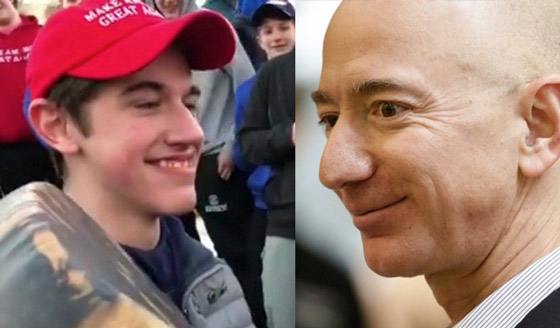 Social justice warriors and media pundits better lawyer up, because Covington Catholic's Nick Sandmann isn't playing around. The teenager, who became the target of racist accusations and doxxing in January, has begun filing lawsuits against those who libeled him, called for the release of his personal information and organized battalions of online social media accounts to threaten him.
On Tuesday, lawyers for Sandmann filed a massive $250 million dollar lawsuit against the Jeff Bezos owned Washington Post, one of the leading media companies behind the narrative.
Every journey starts with a first step. The journey to achieve justice for Nick Sandmann will begin today. To borrow a phrase used by others – tick tock . . .

— Lin Wood (@LLinWood) February 19, 2019
Today, @LLinWood and I filed a suit seeking $250 million dollars in damages on behalf of Nicholas Sandmann against The Washington Post. This is just the first of many. https://t.co/ZYTXoGRU7S … #CovingtonBoys #CovingtonCatholic pic.twitter.com/bhMMjmpLXO

— Todd V. McMurtry (@FitLwyr) February 19, 2019
In a span of three (3) days in January of this year commencing on January 19, the Washington Post engaged in a modern-day form of McCarthyism to claim leadership of a mainstream & social media mob of bullies which attacked, vilified & threatened Nick Sandmann, an innocent minor. https://t.co/L8RuZebrRd

— Lin Wood (@LLinWood) February 19, 2019
As noted by The Daily Wire:
The lawsuit accuses The Washington Post of targeting Sandmann "because he was the white, Catholic student wearing a red 'Make America Great Again' souvenir cap on a school field trip to the January 18 March for Life in Washington, D.C. when he was unexpectedly and suddenly confronted by Nathan Phillips ('Phillips'), a known Native American activist, who beat a drum and sang loudly within inches of his face ('the January 18 incident')."

"In targeting and bullying Nicholas by falsely accusing him of instigating the January 18 incident, the Post conveyed that Nicholas engaged in acts of racism by "swarming" Phillips, "blocking" his exit away from the students, and otherwise engaging in racist misconduct," the lawsuit continued. "The Post ignored basic journalist standards because it wanted to advance its well-known and easily documented, biased agenda against President Donald J. Trump ("the President") by impugning individuals perceived to be supporters of the President."
Last month Sandmann's attorneys sent cease and desist letters to scores of media stations, individual journalists and owners of social media accounts warning them of potential forthcoming lawsuits.
Included in this list were media pundits from CNN, The Washington Post and The New York Times. Hollywood personalities including Alyssa Milano, Kathy Griffin, Bill Maher and Jim Carrey also received letters.
It is not clear if lawsuits will be filed for everyone on the list, but today's filing has no doubt sent shivers down the spines of those who engaged in online bullying tactics to destroy the life of a teenager who did nothing more than stand still while waiting for his school bus to pick him up.