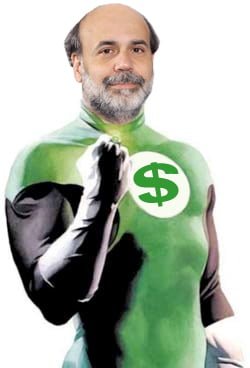 The Street contributor Dan Dicker says that Ben Bernanke is his hero.
(Watch the video below)
First of all Bernanke is my hero, and he should be yours too. This is a guy, nobody expected any tightening to go on this year, but this is a guy who only will do what is right for this nation and right for this economy. And, he believes that it's turning around. He believes that there's growth here. He believes that we won't get double dip. He believes we need to put this country in a better position than Greece and Ireland and Portugal and Italy and Spain. So he's taking a very very difficult task, moving towards tightening here, tightening now. Tightening in early 2010 instead of 2011 or 2012.
Mr. Dicker's praise for Ben Bernanke stopped short of throwing on a cheer leader outfit and pom-pom – though this may have been bigger news had he done so.
We realize Mr. Bernanke believes that the economy is turning around, and that he believes we won't get a double dip, and that he believes we'll be in a better position that the PIIGS.
My kids believe in the tooth fairy, the Easter bunny, Santa Claus and that Harry Potter can fly on a broomstick. But does their belief in these things actually make them real?
The very difficult task of tightening interest rates in 2010 should have happened much, much earlier. Mr. Bernanke, along with his predecessor(s) are among those responsible for the mess we are in today because of loose credit lending policies and total disregard for a strong currency.
They may be heroes to investment bankers and Dan Dicker's friends, but they are more akin to villains from the perspective of the American people.
Watch Mr. Dicker Cheer on Ben Bernanke: