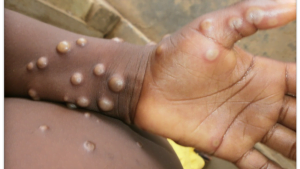 Belgium has become the first country to mandate a 21-day quarantine because of the monkeypox outbreak. Three cases were reported in the country, and those in contact with those three persons are being forced to quarantine to prevent the spread of the disease.
All of the infections were linked to a festival in the port city of Antwerp, according to the Daily Mail, as Belgium is now one of 14 countries to confirm outbreaks of the viral disease (in addition to suspected, but not confirmed cases in Austria and Greece).
According to a report by ZeroHedge, on Sunday, United States President Joe Biden said that the recent spread of monkeypox is "something that everybody should be concerned about."
"It is a concern in that if it were to spread it would be consequential," he said, speaking from Osan Air Base in South Korea where he was meeting with troops before the Japan leg of his Asia trip.
UK health officials, meanwhile, have warned that the UK faces a 'significant' rise in infections, and the government's response is 'critical' in containing the spread.
Dr Susan Hopkins, a chief medical adviser to the UK Health Security Agency, today also warned that monkeypox is spreading through community transmission in the UK with more cases being detected daily.

Sajid Javid yesterday revealed another 11 Britons had tested positive for the virus, taking the total to 20.

The cases include a British child currently in a critical condition at a London hospital, while a further 100 infections have been recorded in Europe. -Daily Mail
"There is going to be more diagnoses over the next week," said Dr. Claire Dewsnap, president of the British Association for Sexual Health and HIV. "How many is hard to say. What worries me the most is there are infections across Europe, so this has already spread."
The United States may have a third case of monkeypox in Florida. Health officials in Broward County, Florida, said on Sunday that they were investigating a suspected case of monkeypox. The Florida case is in the Fort Lauderdale area, and the infected person had recently traveled abroad.
The official narrative is being crafted right now. Pay attention and stay alert to what's happening around you.