The following commentary and analysis was originally published by Jim Quinn at The Burning Platform. 
The Chinese stock market hit a four year high today at 3,020. This is up 53% since the middle of 2013 low and up 48% in the last six months. I guess this must mean the Chinese economy is operating on all cylinders. If you think so, you'd be wrong. Barron's interviewed a no-nonsense woman who has lived, worked and analyzed China from within since 1985. Anne Stevenson-Yang has spent the bulk of her professional life there working as a journalist, magazine publisher, and software executive, with stints in between heading up the U.S. Information Technology office and the China operations of the U.S.-China Business Council. She's now research director of J Capital, an outfit that works for foreign investors in China doing fundamental research on local companies and tracking macroeconomic developments.
This lady is about as blunt as you can get about Chinese fraud, lies, mal-investment, and data manipulation. The entire Chinese economic miracle is a fraud. The reforms are false. The leaders are corrupt and as evil as ever. The entire edifice is built upon a Himalayan mountain of bad debt.
The slave labor manufacturer for the world's mal-investments since 2008 make Japan look like pikers.
China, for all its talk about economic reform, is in big trouble. The old model of relying on export growth and heavy investment to power the economy isn't working anymore. Sure, the nation has been hugely successful over recent decades in providing its people with literacy, a decent life, basic health care, shelter, and safe cities. But starting in 2008, China sought to counter global recession with huge amounts of ill-advised investment in redundant industrial capacity and vanity infrastructure projects—you know, airports with no commercial flights, highways to nowhere, and stadiums with no teams. The country is now submerged by the tsunami of bad debt that begets further unhealthy credit growth to service this debt.
The BLS should take lessons from the Chinese government in data falsification. But, the American MSM dutifully reports the Chinese data as if it was real. Faux journalism at its finest.

People are crazy if they believe any government statistics, which, of course, are largely fabricated. In China, the Heisenberg uncertainty principle of physics holds sway, whereby the mere observation of economic numbers changes their behavior. For a time we started to look at numbers like electric-power production and freight traffic to get a line on actual economic growth because no one believed the gross- domestic-product figures. It didn't take long for Beijing to figure this out and start doctoring those numbers, too.
Real numbers from the real economy and real companies reveal the truth about the Chinese economy. If revenues are falling, why is the Chinese stock market up 48% in the last six months? The same reason the U.S. stock market is up. Rampant speculation created by blind faith in central bankers and central banks buying stocks.

I'd be shocked if China is currently growing at a rate above, say, 4%, and any growth at all is coming from financial services, which ultimately depend on sustained growth in the rest of the economy. Think about it: Property sales are in decline, steel production is falling, commercial long-and short-haul vehicle sales are continuing to implode, and much of the growth in GDP is coming from huge rises in inventories across the economy. We track the 400 Chinese consumer companies listed on the Shanghai and Shenzhen stock markets, and in the third quarter, their gross revenues fell 4% from a year ago. This is hardly a vibrant economy.
The Chinese are learning the same thing as Americans. Stimulus does nothing for the average person or the real economy. It benefits crony capitalists and crony communists. It results in mal-investment, booming stock markets and ultimately a bust – that will negatively impact the average person.
By our calculations, since June the central government directly and indirectly has added more than $400 billion of stimulus and relaxed lending terms for housing purchases. Yet, every spasm of new stimulus seems less and less effective in boosting the economy. So most likely, China is sinking into a deflationary recession that's increasing in speed and may take some time to run its course. Investors have lost faith in the property market, which alone comprises about 20% of GDP, when taking into account the entire supply chain, from iron-ore production to construction to related financial services and appliance sales. Employment and wage compensation will suffer. Consumption will continue to suffer. There's even an outside possibility that China's economic miracle could end up in a fiery crash landing, if a surge in banking-system loan defaults outruns government regulators' attempt to contain such a credit crisis and restore financial confidence.
The diminishing effectiveness of Keynesian claptrap projects is evident for all to see.
The giant government economic-stimulus programs since 2008 are rapidly losing their effectiveness. The reason is simple. Much of the money has been squandered in money-losing industrial projects and vanity infrastructure spending that make no economic sense beyond supplying temporary bump-ups in GDP growth. China is riding an involuntary credit treadmill where much new money has to be hosed into the economy just to sustain ever-mounting bad-debt totals. Capital efficiency, or the amount of capital it takes to generate a unit of GDP growth, has soared as a result.
Nothing like 50 million unoccupied housing units to create the greatest housing bust in world history. Maybe Blackstone can work its buy to rent strategy in China. It's worked so well here in the U.S.
The Chinese home real estate market, mostly units in high-rise buildings, is truly bizarre. Many Chinese regard apartments as capital-gains machines rather than sources of shelter. In fact, there are 50 million units in China that are owned but vacant. The owners won't rent them because used apartments suffer an immediate haircut in value. It's as if the government created a new asset class that no one lives in. This fact gives lie to the commonly held myth that the buildout of all these empty towers and ghost cities is a Chinese urbanization play. The only city folk who don't own housing are the millions of migrant laborers continuously flocking to Chinese cities. Yet, they can't afford the new housing.
China should rename themselves Bad Debts R Us. I'm sure they can keep the bad debt balls in the air for another decade. Right?
Interestingly, liquidity seems to be a growing problem in China. Chinese corporations have taken on $1.5 trillion in foreign debt in the past year or so, where previously they had none. A lot of it is short term. If defaults start to cascade through the economy, it will be more difficult for China to hide its debt problems now that foreign investors are involved. It's here that a credit crisis could start. Bad debt in China never seems to get written down. The huge pile of nonperforming bank loans that Beijing assumed earlier in the millennium in order to be able to take its major banks public still sits on the balance sheets of various asset-management companies.
China is still an evil communist nation that disregards human rights, murders its citizens, crushes dissent, and suppresses free speech. Other than that, they are a great bunch of guys.
In my opinion, the press is somewhat guilty of willing suspension of disbelief on developments in China. Xi's agenda of Confucian [moral] purification has nothing to do with opening up the economy or social reform. He wants to bolster the power of the Communist Party and tamp down the cynicism about the system that is increasing in China. This explains in large part his bellicosity in the South China Sea, quashing of dissent on the Internet and elsewhere, and heavy-handed attacks on non-Han populations like the Uighurs. He openly disdains Western democratic values. As for Xi's much-ballyhooed anti-corruption campaign inside China, it offends me that international media depict it as a good-governance effort. What's really going on is an old-style party purge reminiscent of the 1950s and 1960s with quota-driven arrests, summary trials, mysterious disappearances, and suicides, which has already entrapped, by our calculations, 100,000 party operatives and others. The intent is not moral purification by the Xi administration but instead the elimination of political enemies and other claimants to the economy's spoils.
Nothing like a little blunt truth on the day the Chinese stock market hits a four year high. Nothing but smoggy skies ahead.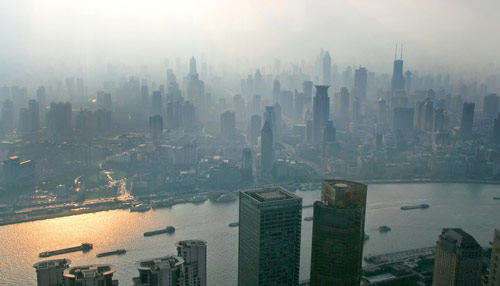 This commentary has been contributed by Jim Quinn and The Burning Platform