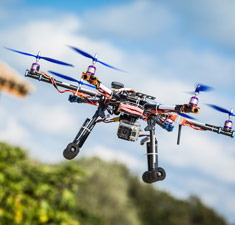 If you're like millions of other drone hobbyists in America who like to post their captured videos on Youtube then you could soon be receiving a legal notice from the Federal Aviation Administration.
Under existing FAA guidelines flying a drone for personal use is completely legal, as is recording video of your drone flight. But if you use the drone for commercial purposes, say for example to record an aerial view of a real estate property listing, then you'd be breaking the law.
But the FAA just found another loophole in their efforts to curb the popularity of drones. It turns out that if you record a drone flight video and post it on Youtube you may be breaking the law if an automatic advertisement is launched within the video. According to the FAA, because you make a few pennies off of that advertisement you are now using your video in a commercial capacity.
The consequences, according to the FAA, include fines and sanctions:
Earlier this week, the agency sent a legal notice to Jayson Hanes, a Tampa-based drone hobbyist who has been posting drone-shot videos online for roughly the last year.

The FAA said that, because there are ads on YouTube, Hanes's flights constituted a commercial use of the technology subject to stricter regulations and enforcement action from the agency. It said that if he did not stop flying "commercially," he could be subject to fines or sanctions.

"This office has received a complaint regarding your use of an unmanned aerial vehicle (aka drone) for commercial purposes referencing your video on the website youtube.com as evidence," the letter reads. "After a review of your website, it does appear that the complaint is valid."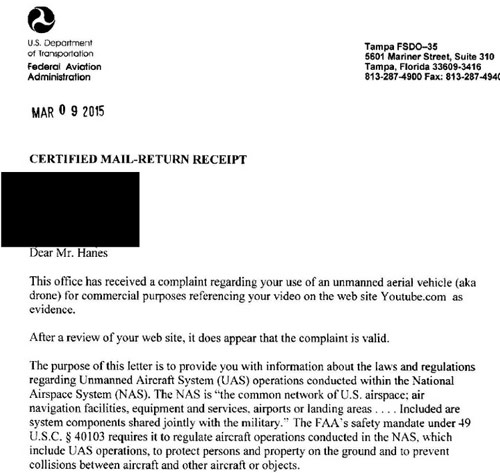 (Full FAA Letter)
As is generally the case, the government has created regulations that are not only confusing to the public, but open for broad interpretation by enforcement officials as they see fit:
Where, exactly, does commercial use begin and hobby use end, for instance? If you fly for fun, but happen to sell your footage later, were you flying for a "commercial purpose?" What if you give it to a news organization that runs it on a television station that has ads on it? What if you upload it to YouTube and Google happens to put an ad on it? What if you decide to put an ad on it?
The argument may soon be moot, however, as the recent crash-landing of a drone on the White House lawn that was being operated by a government intelligence employee may have far-reaching implications for hobbyists.
Some politicians have already mentioned banning drones for personal use because of the security threats they pose.
The deployment of armed military surveillance drones on U.S. soil that have authorization to kill American citizens without charge or trial, however, will remain completely legal.
Also Read:
Obama Moves To Authorize Domestic Drone Strikes: "The Rules Outside Of The United States Are Going To Be Different Than The Rules Inside Of The United States"
US Attorney General Gives the Go-Ahead on Domestic Drone Strikes: May Be Necessary Under "Extraordinary Circumstances"