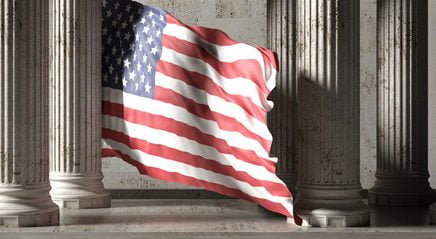 Bank of America strategist is warning that we should enjoy 2019 right now, while we still can.  A note led by top strategist Michael Hartnett, says investors will have to grapple with the long-running bull market as it limps into 2020 because the "big top is coming down."
"We are bullish on risk assets in 2019 as bearish investor sentiment and the irrationality of central banks and bond markets allow an 'overshoot' in credit and equity prices," he wrote. "We are bearish on risk assets in 2020 as recession/policy impotence/bond bubble risks induce Big Top in credit and equities."
"The 2020s are likely to witness a more forceful attempt to create inflation," he said. "Even the slightest sign of success will lead to dramatic rotation… away from the deflationary winners of the 2010s to the inflationary losers." But Hartnett says stocks could still rise too.
Bank of America issued a similar ominous warning back in July.  Back then, Hartnett and chief economist, Ethan Harris wrote a piece on the law of large numbers, arguing that an ever-expanding list of uncertainties would likely undercut the markets going into year-end. At the time, the main concerns were the trade war, a hawkish Fed, Brexit, Quitaly, and Iran oil sanctions.  Bank of America once again warns a similar set of concerns could come to a head and halt the current rally in global equity markets.
https://www.zerohedge.com/news/2019-07-21/bank-america-enjoy-it-while-it-lasts
BofA economists are becoming concerned that the tariffs are permanent, and that there will be no de-escalation of the trade war.  That means higher prices for a majority of goods and services are here to stay at a time when many Americans struggle to make ends meet. According to ZeroHedge, the deadline for avoiding auto tariffs is mid-November. Additionally, there is a steady drift toward some kind of currency war: in the form of either countervailing duties or outright intervention. Countries that benefit from production shifting out of China, including Vietnam and other ASEAN countries, could face at least a serious threat of US tariffs.
Economic expert Michael Snyder of The Economic Collapse Blog and Barbara Fix, author of Survival: Prepare Before Disaster Strikes, address the whys and the hows of getting prepared for the coming crisis in their new book.  Topics include looming economic collapse, Ebola, drought and increasing weather-related disasters, our extremely vulnerable power grid, civil unrest, and practical steps for storing food and supplies that you will need.  Get Prepared Now! walks readers through survival in a short-term or protracted crisis whether in the city or the country with budget-friendly advice