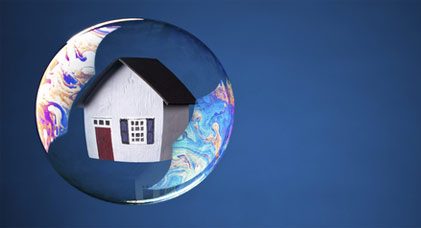 The housing market bubble that fueled the Great Recession a decade ago is looming once again and has been for some time.  But it's all about to shift and things are going to be pretty grim for buyers.
The housing shortage that fueled competition and resulted in sky-high price gains throughout 2017 and the first half of 2018 is on the horizon yet again, and the supply of available homes could hit a new low. The number of for-sale listings was up 2.8% annually in June, but that was down from May's 2.9% gain. Inventory gains began to slow this year from 6.4% growth in January to 5.8% in February, according to a report by CNBC.
Now is not the time to be buying a new home.  While the market is inflated and prices are high, buyers are going to be on the hook for a home that's worth far less than what they owe on it making a repeat of the 2008 housing bubble burst a reality once again. Supply is now expected to flatten over the next three months and could hit its first decline in October of this year, according to Realtor.com.  And that will push prices even higher.
"It was only 18 months ago that the number of homes for sale hit its lowest level in recorded history and sparked the fiercest competition among buyers we've ever seen. If the trend we're seeing continues, overall inventory could near record lows by early next year," said Danielle Hale, chief economist at Realtor.com, according to CNBC. "So far there's been a lackluster response to low mortgage rates, but if they do spark fresh buyer interest later in the year, U.S. inventory could set new record lows this winter."
Fewer owners, for several reasons, have chosen to not list their homes. "It's likely a combination of rate-lock, recently decreased consumer confidence and older generations choosing to age in place," added Hale. But it could also be that even though a profit can be made by selling a house, finding a house to live in is also going to cost much more.
Home price gains had been shrinking, but the gains jumped up again in June for the first time in 14 months, according to CoreLogic. "Interest rates on fixed-rate mortgages fell by nearly one percentage point between November 2018 and this May," said Frank Nothaft, chief economist at CoreLogic. "This has been a shot-in-the-arm for home sales. Sales gained momentum in May and annual home-price growth accelerated for the first time since March 2018."
Lower interest rates are attractive to buyers, however, when demand increases and supply does not, prices go up again and the bidding wars start to take place.  This could realistically become a big problem much as we all experienced a decade ago. Oftentimes, the housing market is a good indicator of where the economy is headed both nationally and globally. Take the time to save up a little and pay down your debts if you can. Protect yourself by preparing for the next recession to the best of your ability.
How To Best Prepare Yourself For The Coming Financial Crisis
Sign up for free wealth preservation advice emails from James Davis with Future Money Trends here.