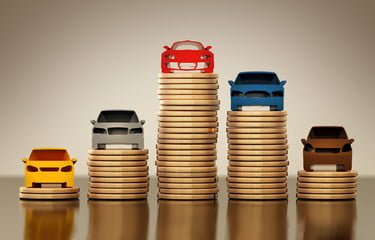 Auto loans have hit a new record, and it's not a good sign in an economy that's so volatile.  Consumers' monthly auto payments have hit a new all-time high too. People buying new vehicles continue to push the envelope, borrowing more and, on average, paying more each month for their auto loan.
Credit-ratings firm Experian says the average amount borrowed to buy a new vehicle hit a record $32,187 in the first quarter, according to a report by CNBC. The average used-vehicle loan also hit a record high of $20,137. "We have not seen a slowdown in loan demand. In fact, volume for new and used loans is up from previous years," said Melinda Zabritski, senior director of automotive financial solutions for Experian. As a result, the average monthly payment for a new vehicle continued to climb to a new high of $554 and to a record $391 for used vehicles, according to Experian.
This is also unnerving considering there are so many brand new cars going unsold. People are buying cars they cannot afford, and, according to Zabritski, many are now leasing their car instead of electing to own it.
What is a bit of an odd trend, is that people with the best credit scores are increasingly buying a used model instead of new. Experian says 61.8% of those with a prime credit rating and 44.7% of those with a super prime credit rating took out loans to buy a used vehicle in the first quarter. Those are the highest percentages Experian has ever recorded for prime and super-prime used vehicle borrowing.
"Consumers seem to be taking advantage of options to reduce payments," Zabritski said.  But that makes little sense considering monthly payments are sky high and continue to break previous records. It actually appears that consumers don't seem to be bothered by a high monthly payment. In February, just a few months ago, auto loan delinquencies were at 19-year highs during an economy being touted as "excellent and growing" as job growth wanes and the tax on consumers (tariffs) puts more pressure on people. "That is more than a million more troubled borrowers than there had been at the end of 2010 when the overall delinquency rates were at their worst," economists at the New York Fed wrote in a blog post.
Financial gurus such as Dave Ramsey tend to put car loans firmly into the "bad debt" category. And there's a reason for that.  Mathematically, they don't make much sense, according to Ramsey's blog.
According to a piece on his blog titled The Truth About Car Payments, a new car will lose 60% of its value within the first five years, according to Carfax.  That means that after six years, you've paid almost $33,000 for a $26,000 car, which is now worth maybe $6,000. That's not a good deal. Not to mention, if your car loses value faster than you can make your payments, you're on the road to an upside-down car loan.
But the trend toward pricer cars and larger payments doesn't appear to one that's waning, regardless of what personal wealth experts may say.