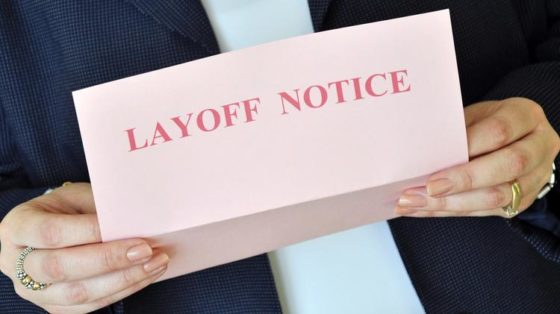 Ford Motor Co. is finishing up their final round of layoffs today. About 7,000 workers worldwide are losing their jobs in this "booming economy" as unsold vehicles continue to pile up in the once empty parking lots of closed retail establishments.
CEO Jim Hackett notified employees in an email Monday that Ford was nearing the end of its months-long bout of white-collar layoffs that would eliminate 7,000 jobs globally, roughly 10% of the automaker's global salaried workforce, according to Detroit News. When the U.S. layoffs wrap by June, Ford would have cut around 800 jobs in addition to 1,500 buyouts that occurred late last year, or around 7% of its U.S. salaried workforce.
The first 500 employees to be laid off are being told today.  Both sets of layoffs are largely a result of a slowing auto market and looming economic recession. Ford's layoffs are part of a $25.5 billion pool of cost cuts expected to roll out over the next few years.
Ford layoffs aim to prune management levels, which would allow for quicker ascension through executive ranks and quicker decision-making. Anderson said Ford's job cuts aim to answer a tougher problem than GM's. "Ford set a target for a gross number of management jobs to be reduced," Anderson said. "That is harder to achieve and keep a successful company than it will be for General Motors. … It's going to be harder for Ford to maintain the quality they have with this significant headcount reduction."
But the auto industry is barely holding on right now, and it wouldn't be too surprising if Ford laid off more workers by the end of this year as well.
Dealers Scramble To Deal With 4.2 Million UNSOLD CARS
Abandoned factories, forgotten shopping malls, and undeveloped parcels of land have become parking lots full of new cars as dealers try to figure out what to do with mounting inventories of unsold vehicles, according to OKCFox, a local Oklahoma City Fox News affiliate reported. But the mainstream media keeps saying the economy is great, and even though stocks have fallen on the news of a heightened trade war, there isn't much other real truth happening when it comes to reporting on the economy. –SHTFPlan
Of the over 4 million unsold cars and light trucks, over half are from General Motors, Ford or FCA brands. May sales have slumped as consumers just cannot afford to buy at this time. Auto loan delinquencies are also rising at a time when unemployment is low and the economy is in excellent shape (if you listen to the mainstream media.)  But the cracks in the economy are showing through the auto industry.