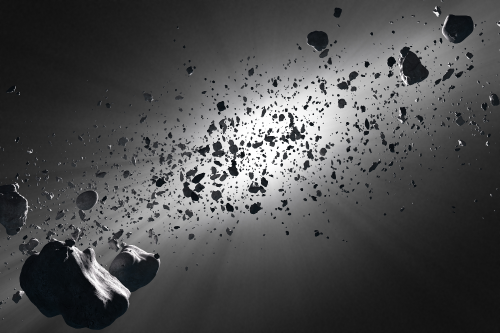 There are a lot of different scenarios that ordinary people can prepare themselves for. Anyone can gear up for weather related events, war, pandemics, economic collapse, and earthquakes. Learning the right skills, stocking up on food, tools, weapons, and precious metals, are all attainable for most people, and can insulate them from just about any scenario. But there's one disaster that's significantly more difficult to prepare for, and that's an asteroid strike.
This type of disaster is so much more unpredictable, and the potential damage would dwarf anything that humans are capable of inflicting on themselves. It doesn't even compare to the destructive capacity of a nuclear war. At least in that situation, there will be signs that tensions are rising between nuclear armed nations, and it's feasible that you could leave major cities before disaster strikes. But with an asteroid, you probably wouldn't know when or where it's going to hit until it's too late. And perhaps worst of all, this disaster is inevitable, which is what a leading astrophysicist recently told the Daily Mail:
Dr Alan Fitzsimmons has said it is a case of when an asteroid collision will happen, rather than if it will happen, with more asteroids being discovered every day.

An unexpected strike in today's world could easily destroy a major city and a larger one could potentially wipe out humanity, the expert warned…

'…Over 1,800 potentially hazardous objects have been discovered so far, but there are many more waiting to be found.

'Astronomers find Near-Earth Asteroids every day and most are harmless.'

'But it is still possible the next Tunguska would take us by surprise, and although we are much better at finding larger asteroids, that does us no good if we are not prepared to do something about them', he said.
And the destructive power that these objects are capable of would easily put the kibosh on our civilization for good.
From time to time they cross paths with us and, while impacts on the scale of the infamous 6.2-mile (10km) 'dinosaur-destroyer' are rare, an asteroid a fifth the size could spell disaster for civilisation.
With energy greater than 10 million Hiroshima bombs, the impact shock would flatten everything within a 186-mile (300km) radius.

Dust and debris would cause an 'impact winter' and most living things would perish.

Alternatively, an ocean strike would trigger monumental tsunamis, obliterate entire coastlines and inject seawater into the atmosphere, destroying huge swathes of the ozone layer and exposing survivors to devastating levels of UV radiation.
Asteroids pose the most humbling threat to our species. They remind us that despite how technologically advanced our species has become, we're still at the mercy of our universe. These objects whizz by us on a regular basis, and there really isn't anything we can do to stop it.
However, that doesn't mean that as individuals, we are completely helpless. It may be luck that decides who survives the initial impact of an asteroid, but the skills you learn and the supplies you stock up on now will determine whether or not you survive the aftermath.
Read More:
The Prepper's Blueprint: The Essential Starting Point for Survival Planning
"Skills That Could Save Your Life": 25 Forgotten Survival Lessons You Need to Know
SHTF Skills Every American Needs: "Improvise With What You Have"
The Threat Of An Asteroid Striking Earth Is Higher Than Originally Thought
Incoming Asteroid Passing Extremely Close: "If It Doesn't Hit Earth, May Strike Something Around Us!"