UPDATE 8: Washington Bureau Chief, Al-Hayat reports
#Reno recap:
•No Gun Found at Rally
•Man arrested was released
•He is Republican holding sign "Republicans against #Trump"
•Trump off to CO

— Joyce Karam (@Joyce_Karam) November 6, 2016
UPDATE 7: New Photo Emerges 
Via The Daily Sheeple, courtesy The Associated Press: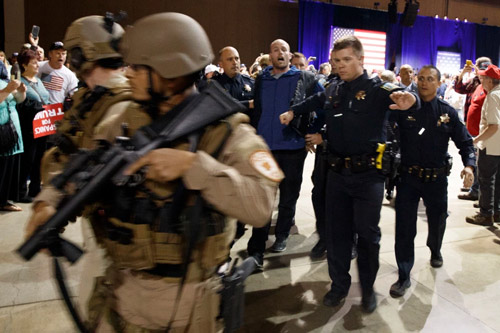 UPDATE 6: CNN reports no gun was found on suspect involved in Trump security incident in Reno
Via: @KevinBohnCNN: "A law enforcement official tells CNN no weapon has been found related to the incident in Reno and Donald Trump"

— Brian Stelter (@brianstelter) November 6, 2016
UPDATE 5: Second Video of security incident in Reno emerges
Assassination Attempt Trump Reno #TrumpRally Secret Service rush Trump to safety. Madman Trump re-takes stage! #MAGApic.twitter.com/wWZhbZ7m6N

— Νia?IndictHillary? (@nia4_trump) November 6, 2016
UPDATE 4: The Man Who Threatened Trump Before Secret Service Rushed Him Off The Stage In Reno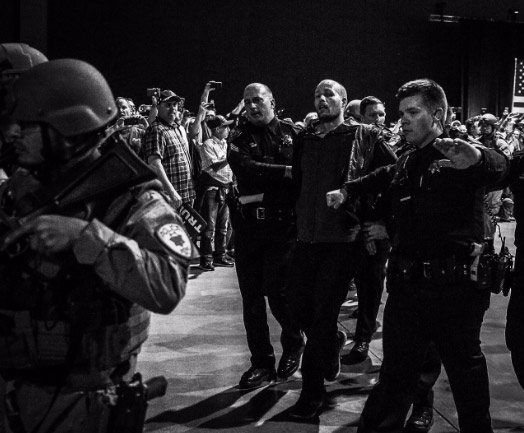 UPDATE 3: Trump releases statement on Reno incident…
Trump releases statement on the incident in Reno. pic.twitter.com/xOYc9LLfMU

— Ashley Killough (@KilloughCNN) November 6, 2016
UPDATE 2:
Trump returns to stage in Reno after Security Incident.
"I want to thank the secret service. These guys are fantastic. They don't get enough credit." – @realDonaldTrump#TrumpInReno #Reno pic.twitter.com/GZwpLdaOF2

— Vote Trump Pics (@VoteTrumpPics) November 6, 2016
UPDATE 1:
One Secret Service agent blocked Trump with his body as someone in crowd yelled "He's got a gun!" https://t.co/biXDbYUF7t

— Jack Posobiec ?? (@JackPosobiec) November 6, 2016
ORIGINAL REPORT:
Donald Trump has been rushed off the stage in Reno by Secret Service agents. It is unclear exactly what happened but unconfirmed reports indicate that an anti-Trump protester in the crowd flashed a gun.
Crowd response and Secret Service activity immediately following Trump's evacuation from the stage shows at least one individual being restrained just feet from where Trump was speaking.
Has the Secret Service thwarted an assassination ?
Video:
JUST NOW: Donald Trump was just rushed off stage during his Nevada campaign rally: https://t.co/7fTJ3N3MQN pic.twitter.com/Hm7CRdFDTU

— CBS News (@CBSNews) November 6, 2016
Man taken off rally floor under heavy police escort amid chaotic scene at @realDonaldTrump event in Reno. pic.twitter.com/eAyvkbrU8y

— M. Scott Mahaskey (@smahaskey) November 6, 2016
BREAKING NEWS: Donald Trump rushed off stage by Secret Service in Reno after 'incident'. pic.twitter.com/pxNgtWxO0x

— Piers Morgan (@piersmorgan) November 6, 2016
BREAKING: Secret Service rush Donald Trump off the stage in Reno, Nevada pic.twitter.com/ombbUkldme

— Washington Examiner (@dcexaminer) November 6, 2016