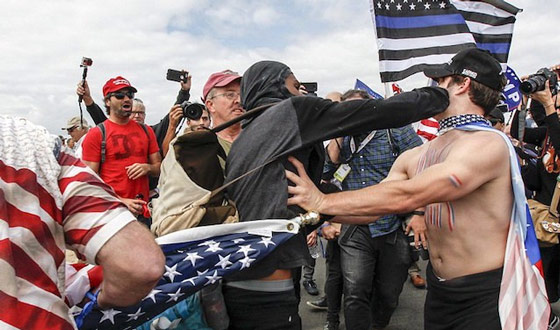 Over the past year, Antifa and other similar anti-fascist groups have been caught threatening, intimidating, and inflicting violence against peaceful people on numerous occasions. And in each case, this has been done with the goal of effecting political change in this country. And that has left many of their critics wondering why groups like Antifa haven't been labeled as terrorist organizations. What these people are doing, literally fits the dictionary definition of terrorism, which is "The unlawful use of violence and intimidation, especially against civilians, in the pursuit of political aims."
Well if you can believe it, Homeland Security has finally done what they should have done months ago.
The Department of Homeland Security in New Jersey has officially listed Antifa as a domestic terrorist organization after a rash of violent attacks by the group targeting supporters of Donald Trump.

Under the heading 'Anarchist Extremists: Antifa', the njhomelandsecurity.gov website characterizes Antifa under the designation of "domestic terrorism".

"In the past year, Antifa groups have become active across the United States, employing a variety of methods to disrupt demonstrations," states the advisory, before going on to list a number of violent disruptions, including Milo Yiannopoulos' speaking event at the University of California Berkeley on February 1st, which was cancelled after members of Antifa violently attacked free speech advocates.

The advisory also lists how Antifa has engaged in doxxing of individuals to expose them to abuse and violent harassment.
But that brings up an important question. Why did it take so long for Homeland Security to call Antifa a terrorist organization?
In the post 9/11 world, it seems shockingly easy to be labelled a terrorist by our government. In the past, Homeland Security has deemed conservatives, libertarians, and Christians as potential terror threats. The government has kept a watchful eye on veterans, for fear that they will turn their lethal skills against the feds. A wide variety of people have been added to the terror watch list, despite having no known affiliations with any terrorist organizations.
People who are merely preppers, conspiracy theorists, or who make purchases with cash are suspect. Americans who wish to encrypt their phones are viewed as potential terrorists. Even making your own gold and silver coins is viewed as a form of domestic terrorism.
In short, if you make the government even slightly nervous, there's a good chance that you will be seen as a potential terror threat, and the government doesn't necessarily need any solid evidence to place you on a terror watch list. So again, why is it that in a society where any slight transgression can land you on the government's shit list, did it take so long to label Antifa a terrorist organization?
The truth is that as far as our government is concerned, "terrorist" is a catch all term for anyone who is a threat to the government. Sometimes that includes people who are genuine terrorists, but more often than not, it includes peaceful people who simply don't want to go along with the government's agenda. And because of that, the government's definition of terrorism changes depending on who is in power.
The most likely reason Antifa is being called a domestic terror organization, is because Donald Trump is president. If Homeland Security was under Obama, I seriously doubt that they would have received that label. In this case, that label is totally justified, but that could change in the future. We live under a government that can totally disregard the rights of anyone they say is a terrorist, but the definition of that word is fluid as far as the government is concerned.
It is applied to whoever is a threat to the system at any given moment. It changes whenever it is convenient to whoever is in power. You can go from being a relatively free citizen to a terrorist who is stripped of all his rights, depending on who is running the country. What is considered totally normal behavior one day, can be deemed a terrorist threat the next. So until the government adheres to a strict definition of terrorism, all of our lives are in danger.
Related:
Portland Rose Parade Canceled Amid THREATS OF VIOLENCE From Anti-Fascists: "You Have Seen How Much Power We Have… Police Can't Stop Us"
It's Getting Ugly: Portland Police Confiscate Knives, Bricks, And Brass Knuckles At Pro-Trump Free Speech Rally
Paul to Congress: "Someone Who Has Guns, Ammunition, 7 Days of Food" Can Be Considered a Potential Terrorist
District Attorney Says Encrypted Phones May Make You a Terrorist Because They "Cannot Be Accessed by Law Enforcement"
Do You Qualify as a Domestic Terrorist?
Obama Approves Substantial Expansion of Terrorist Watch Lists: "Concrete Facts Are Not Necessary"