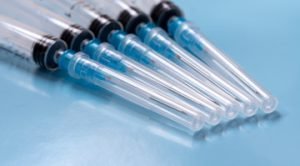 Employees of Apple now have less than one month to show the company proof of getting "boosted" for the Wuhan coronavirus (Covid-19) or else face potential termination. One of the only large corporations to do so thus far, Apple has decided that getting the first two shots is no longer enough for workers to stay "protected."
They must also now get the government-approved boosters or else risk losing their livelihoods. An internal email seen by The Verge reveals that both Apple Store employees and corporate employees have "four weeks to comply" once they become eligible for a booster. Unvaccinated employees will need negative COVID-19 tests before entering the workplace.
"Due to waning efficacy of the primary series of COVID-19 vaccines and the emergence of highly transmissible variants such as Omicron, a booster shot is now part of staying up to date with your COVID-19 vaccination to protect against severe disease," Apple states in the memo. So how many shots are humans going to need in order for these things to "work?" We are going up to four shots and cases are at record highs and people have been injected sometimes three times.
The Push For A Fourth Shot Is Ramping Up
Last year, Apple asked that unvaccinated corporate employees take daily tests before entering the office, with unvaccinated retail workers testing twice per week. The company also began requiring vaccinated individuals to take COVID-19 tests once every week, and later lowered the frequency of these tests. It appears that Apple's "infrequent" testing policy no longer applies to employees who don't receive the booster shot by Apple's deadline, however. -The Verge
Earlier this week, Meta (Facebook) said employees will need to get a COVID-19 booster shot ahead of the company's return to in-office work in March. While Google hasn't mandated company-wide booster shots yet, it requires employees to have the first two doses of a COVID-19 vaccine, as well as take weekly molecular tests.
Large corporations are doubling down on helping the ruling class ensure as many people as possible are injected with as many of these shots as possible. Evidence be damned, many are still lining up to get them in perfect obedience to their masters.