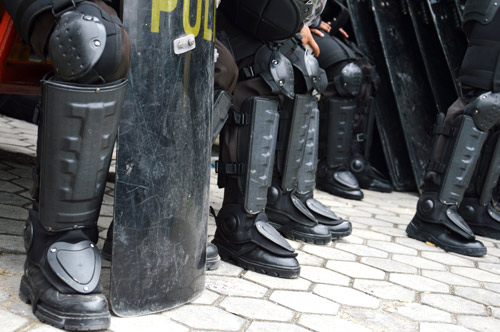 People on the far-left often erroneously claim that free speech ends where hate speech begins, as if offensive words aren't covered under the 1st Amendment. In reality, the right to protest and speak freely is not limited by the content of speech. There is however, a line between where speech is and is not protected, and it's a line that leftists have a habit of crossing. Free speech ends where actual, physical violence begins.
A protest that turns violent is no longer a protest, and it can be shut down by the police, which is a fact that the ACLU apparently isn't aware of. The non-profit civil liberties organization has recently criticized the way police treated ANTIFA rioters in Portland on June 4th.
"We are troubled by the continued crackdown on protest by Portland Police and cooperating agencies, but the kettling of individuals and refusal to let clearly innocent people free until they had been documented was another low for our city."
In case you don't know, this was the same protest where the police confiscated bricks, bats, knives, and brass knuckles from "peaceful" demonstrators. But that's not the only reason why it's obvious that the police had the right to intervene at this event. Portland Police Chief Michael Marshman has since responded to the ACLU's concerns with the following:
"The decision to move the group located in Chapman Square was made after PPB had repeatedly observed objects being thrown and shot from slingshot type devices from Chapman Square into Terry Shrunk Plaza," Marshman wrote. "These objects included urine and feces filled balloons, balloons with unknown chemicals, marbles, bricks and rocks."

He added, "Given this, the assembly was declared an unlawful assembly and the park closed for public safety."

Reporters from Willamette Week also noted that they witnessed rioters were throwing "red-stained" tampons at law enforcement officials during the "peaceful" protest.

Explaining why protesters were "corralled," Marshman claimed that his task force was simply attempting to cut down on the potential of violent attacks between alt-left and alt-right groups who had gathered to face off.
The police in this country receive a lot of criticism these days, and much of it is justified. But this case is pretty clear cut.  At most, the police were guilty of detaining people who weren't violent, but they were also dealing with a chaotic situation where it's difficult to differentiate between peaceful protesters and violent agitators (ANTIFA's tactics are specifically designed to confuse the police). All things considered, they handled the situation pretty well, and prevented it from turning into a violent brawl.

The bottom line is this. When a bunch of rioters show up to an event with bats and knives and start chucking feces at people, they're abusing their right to assemble, and the police should be allowed to shut them down. If anything, we need to see the police behave this way more often when ANTIFA takes to the streets, because the results were good. In this case, it appears that the police prevented the violence from escalating, and while some innocent people were temporarily detained, no one was unlawfully arrested. I can think of a few examples where the police did nothing to stop these violent thugs, and the results were not pretty.

Additional Links:

It's Getting Ugly: Portland Police Confiscate Knives, Bricks, And Brass Knuckles At Pro-Trump Free Speech Rally

ANTIFA At It Again: Leftist "Counter-Protester" Throws Urine On Conservative Journalist

The "Extremism Experts" Who Used To Fear The Right, Are Now Worried About The Left

[DISPLAY_ULTIMATE_SOCIAL_ICONS]