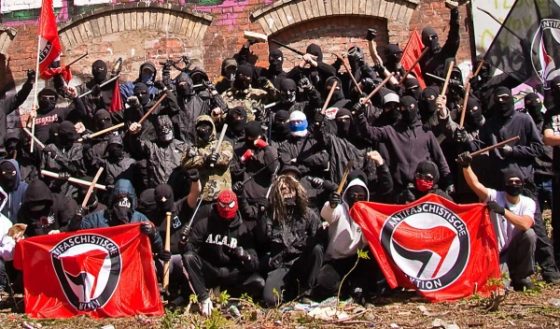 A leader of the Antifa group "Smash Racism DC," has been arrested and charged with "ethnic intimidation." The group "Smash Racism DC" gained notoriety after terrorizing Tucker Carlson and his wife at their home.
According to The Daily Wire, in connection to a brutal attack on two Hispanic Marines in Philadelphia in November, the Antifa leader was arrested and charged. But the real irony is that while Antifa presents itself as "anti-fascist" and "anti-racist," as the Antifa group in Philly demonstrated in November, they openly embrace fascistic violence and racist behavior, not only against anyone they perceive to be white, but minorities who don't back their radical authoritarian and communist agenda.
In their testimony in December, U.S. Marine Corps reservists Alejandro Godinez and Luis Torres described the heinous attack on them by a Philly Antifa group. Unaware that a "We the People" rally was taking place in city, which prompted yet another brawl between Antifa "protesters" and members of the alt-right Proud Boys, Godinez and Torres ended up being victims of Antifa violence. While touring landmarks in the city, the two Marines were approached by suspect Thomas Keenan, 33, who asked if they were "proud." "We are Marines," Godinez replied, not understanding the context of the question. -The Daily Wire
Police eventually arrested Philly Antifa member Thomas Massey as well.
At that point, several Antifa members, some of whom were masked to shield their identities from their horrific actions, violently attacked the two Marines.  Torres and Godinez reported there was punching, kicking, and that they were stomped on while vile racial remarks intended as insults were slung.  The Antifa members initially called the Marines "Nazis" and "white supremacists," but after Godinez yelled out, "I'm Mexican!" the assaulters allegedly began to hurl racial slurs at them, including "spic" and "wetback." Keenan, Godinez testified, was "laughing, smiling, and having a good time, while I could have died that day."
The Daily Caller reported on Tuesday that yet another Antifa member has been arrested for being a violent sociopath. The leader of "Smash Racism DC," Joseph "Jose" Alcoff, who also goes by the name "Chepe." Alcoff was charged on January 10, 2019, with 17 charges, "including multiple counts of aggravated assault, ethnic intimidation, conspiracy, and terroristic threats, and one count of robbery while inflicting serious bodily injury," the report stated.
Violent attacks by the far left authoritarian communists often go unreported in the mainstream media, which glorifies violence as long as it comes from the government or those who back an authoritarian agenda.