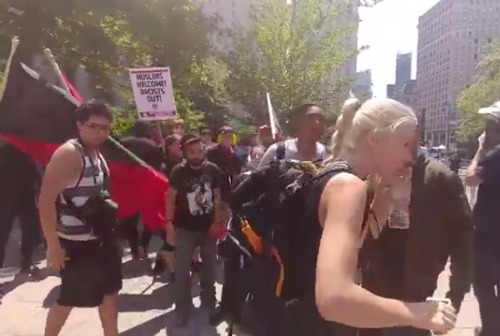 Once Again, the far-left has shown that it has no respect for open discourse and civility. Everyone who disagrees with them, is fair game for their childish antics and violence.
Over the weekend, anti-sharia protests erupted in multiple US cities, whose members were quickly outnumbered by leftists counter-protesters. In Seattle, one Trump supporter approached the counter-protesters, and was glitter bombed, sprayed with silly string, and swarmed by a mob of ANTIFA thugs, one of whom can be heard shouting "beat his ass!"
ANTIFA JUST BEATDOWN A TRUMP SUPPORTER. HUGE WILD BRAWL. BATTLE IN SEATTLE!!!! pic.twitter.com/X4NHVlSeJe

— Mike Bivins (@itsmikebivins) June 10, 2017
And at the New York City rally, a member of ANTIFA threw urine on conservative journalist, Lauren Southern. A closer examination of the footage found that it was bottle of fox urine, normally used to deter pests.
Here's the moment #antifa threw pee at Lauren Southern as I was trying to interview her pic.twitter.com/uL03SwY7Oa

— Alex Rubinstein (@RealAlexRubi) June 10, 2017
Southern responded appropriately to the gross attack on twitter.
I guess it makes sense the people throwing chemicals or bodily fluids at chicks faces would be protesting the #MarchAgainstsharia

— Lauren Southern (@Lauren_Southern) June 10, 2017
In both cases, the leftist protesters and ANTIFA thugs can be seen using various noisemakers to drown out any form discourse.
This is what the Left has degenerated into. When confronted with people they disagree with; in this case, people protesting a violent and oppressive religious legal code, they respond with violence and oppression.
However, these ANTIFA losers should probably take a break, because more and more people are beginning to dish out the same kind of violence that they've been inflicting on peaceful protesters for months. In Manchester, England for instance, there was a protest against Islamic terrorism on Sunday, which was confronted by ANTIFA. It was supposed to be a silent protest, but quickly turned violent (gee, I wonder who drew first blood?). The "UK Against Hate" protesters wound up pelting ANTIFA agitators with glass bottles.
Considering how bad these ANTIFA people are at fighting (watch the first video again if you don't know what I mean), they might want to think twice before they bring violence to the next protest.
Read More:
It's Getting Ugly: Portland Police Confiscate Knives, Bricks, And Brass Knuckles At Pro-Trump Free Speech Rally
Militant Leftists Are More An Annoyance Than A Real Threat To Liberty: "They Are Incompetent And Fumbling In The Dark"
Watch: "Anti-Fascist" Militia Training Video Shows Leftists Are Preparing For Armed Confrontation
Portland Rose Parade Cancelled Amid THREATS OF VIOLENCE From Anti-Fascists: "You Have Seen How Much Power We Have…Police Can't Stop Us"