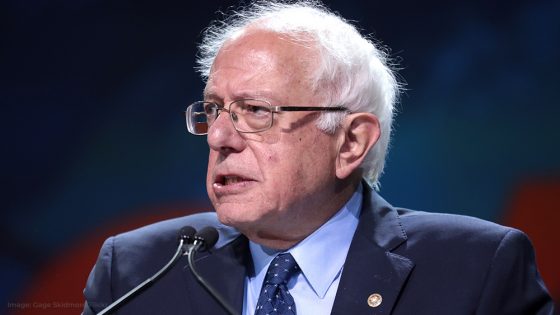 Yet another unstable Bernie Sanders supporter has been caught on video exposing the violence and enslavement all socialists demand from others.  "I'll straight up get armed," the unhinged socialist can be heard saying.
A video released on Tuesday by Project Veritas reveals a man identified as Martin Weissgerber, a paid field organizer for the Sanders presidential campaign in South Carolina, fantasizing about sending Republicans to "reeducation camps" and Sanders dissolving the Senate and House of Representatives should he become president.
"Gulags Weren't That Bad": Sanders Staffer Says Trump Supporters Will Need To Be 'Re-Educated In Camps'
As if Bernie Sanders' policies weren't authoritarian enough, his supporters are going out of their way to prove that in order to force socialism on people, violence, enslavement, and even death by "guillotine" isn't inhuman.  What a disturbing group of people…
And on a side note, maybe someone should tell Weissgerber that his master Sanders is one of the rich.  
https://www.shtfplan.com/headline-news/hypocrite-socialist-bernie-sanders-is-in-the-1_04162019
When speaking, Weissgerber makes it clear that he wants Sanders to enslave humanity to the utmost degree. "Do we just cease — do we just dissolve the Senate, House of Representatives, the judicial branch, and have someone like Bernie Sanders and a cabinet of people make all the decisions on climate? I mean, I'm serious," the staffer says when talking about how Sanders could tackle climate change as president, according to a report by RT. 
He also says he wants Republicans like Mitch McConnell and Lindsey Graham sent to "reeducation camps." "What will help is when we send all the Republicans to the reeducation camps," he says. "Can you imagine Mitch McConnell? Lindsey Graham?"
At another point in the hidden camera footage, the staffer says he's prepared for a revolution that requires armed resistance and even calls to"guillotine the rich." He did comment that Sanders does not share his views that are more far left. Yeah, these views are so far left Adolf Hitler and Joseph Stalin would be proud. Death, murder, Gulags, concentration camps, and violence: this guy is a slave and wants a master to control everyone.
https://twitter.com/JamesOKeefeIII/status/1219620664505593856?ref_src=twsrc%5%E2%80%9CDo%20we%20just%20cease%20%E2%80%94%20do%20we%20just%20dissolve%20the%20Senate,%20House%20of%20Representatives,%20the%20judicial%20branch,%20and%20have%20someone%20like%20Bernie%20Sanders%20and%20a%20cabinet%20of%20people%20make%20all%20the%20decisions%20on%20climate?%20I%20mean,%20I%E2%80%99m%20serious,%E2%80%9D%20the%20staffer%20says%20when%20talking%20about%20how%20Sanders%20could%20tackle%20climate%20change%20as%20president.%20He%20also%20says%20he%20wants%20Republicans%20like%20Mitch%20McConnell%20and%20Lindsey%20Graham%20sent%20to%20%E2%80%9Creeducation%20camps.%E2%80%9D%20%E2%80%9CWhat%20will%20help%20is%20when%20we%20send%20all%20the%20Republicans%20to%20the%20reeducation%20camps,%E2%80%9D%20he%20says.%20%E2%80%9CCan%20you%20imagine%20Mitch%20McConnell?%20Lindsey%20Graham?%E2%80%9D%20At%20another%20point%20in%20the%20hidden%20camera%20footage,%20the%20staffer%20says%20he%E2%80%99s%20prepared%20for%20a%20revolution%20that%20requires%20armed%20resistance%20and%20even%20calls%20to%E2%80%9Cguillotine%20the%20rich.%E2%80%9D%20He%20did%20comment%20that%20Sanders%20does%20not%20share%20his%20views%20that%20are%20more%20far%20left.
With this being the second Sanders staffer to be caught on camera spouting extremist ideas — the first said "cities will burn" if Bernie loses and Trump is reelected — rational and non-violent humans are questioning whether there is an issue within the ranks of the Vermont senator that he needs to address.
https://twitter.com/iheartmindy/status/1219633768912359428?ref_src=twsrc%5Etfw%7Ctwcamp%5Etweetembed%7Ctwterm%5E1219633768912359428&ref_url=https%3A%2F%2Fwww.rt.com%2Fusa%2F478836-bernie-sanders-project-veritas%2F
The staffer has now completed a total lockdown of his social media, including deleting his Twitter account. Sanders and his campaign have failed to comment on the rabid violence espoused by his people.