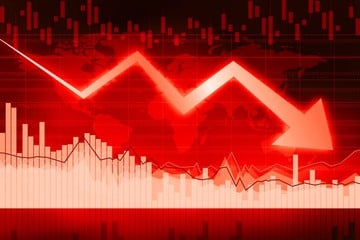 Although most wouldn't know it by taking a quick glance at the stock market, the economy is showing the undercurrents of an economic downturn.  Another recession indicator is flashing red as everything but the stock market is strained.
The most recent indicator of an upcoming recession is called the Chicago Fed National Activity Index. This index combines 85 indicators to measure the strength of the economy and inflation in the United States. It is released monthly and it just came in at a negative 0.02 on Monday, below economist expectations for a positive 0.1. This is now the seventh month in a row that this index has come in negative, prompting experts to sound the recession alarms.
"Every prior streak of seven or more months of negative readings in the index has coincided with a recession," writes Bespoke Investment Group's Paul Hickey. However, according to Barron's, Hickey implies that this time, it could be different and perhaps the economy won't sink into a recession after all. The Chicago Fed index isn't very negative, which could indicate that the U.S. economy is just "sputtering," not sinking into recession. Furthermore, six negative readings in a row used to be enough to signal a looming recession, but the index has had two of those since the financial crisis, Hickey explains. "The relevance of the Chicago Fed NAI may not be as strong as it used to be," he writes.
Yield Curve Inversion Hits 3-Month Mark: This Predicated All 7 Previous Recessions
The Federal Reserve's manipulation of the economy through keeping interest rates low and endlessly printing money to give to the government has made most of the recession indicators, including the yield curve, null and void.  Things are not what they used to be and over a century of market manipulation is permanently changing the economic landscape.