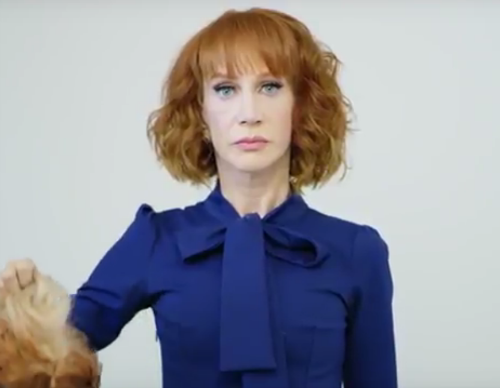 Infamous comedienne Kathy Griffin, now known for holding a "bloody Donald Trump head" for a photo has gone on yet another profanity-laced rant, and this time, her target is Melania Trump.  "F— you, Melanie," Griffin said during her highly disturbing and mentally unstable social media tirade.
Griffin rightfully drew public backlash after she posed with a bloodied mask of Trump's face in May 2017. After the disturbingly horrifying photo went viral. Following the photos, CNN cut Griffin from hosting its New Year's Eve show alongside co-anchor Anderson Cooper, who squashed their friendship. Griffin has since taken back the apology she initially offered for her disturbing actions.
Griffin had to have her mic cut several times for using such profane language [during an appearnce on The View.]  The 57-year-old once again took back her apology after she nearly lost her career for posing with a bloodied Trump mask in 2017. The imagery from her photoshoot with the mask was incredibly graphic.

"Yeah, I take the apology back," she told the hosts of The View. "F— him. And Don Jr. and Eric, or as I call them Eddie Munster and Date Rape. I'm not holding back on this family. This president is different and I have been through the mill and so now I'm back on the road. I sold out Carnegie Hall in less than 24 hours." –SHTHPlan
Griffin's anger is now being directed at Melania Trump and is said to have been over the immigration policies of the Trump administration, according to Fox News.  The first lady had weighed in on the controversy of children being separated from their parents earlier in the day.  "Mrs. Trump hates to see children separated from their families & hopes both sides of the aisle can finally come together to achieve successful immigration reform. She believes we need to be a country that follows all laws but also a country that governs w/heart," her office told Fox News.
Griffin then tweeted: "F— you, Melanie. You know damn well your husband can end this immediately…you feckless complicit piece of s—."
Griffin's tweet likely alluded to a May 2018 tweet from Trump in which he misspelled his wife's name, as well as Samantha Bee's slam of Ivanka Trump as a "feckless c—" on her show in May. Griffin was referring to news of family members who have been separated by federal authorities while illegally crossing the border from Mexico into the United States.
The tweet is already receiving backlash online: "Kathy Griffin is hate-filled and pathetic," one user tweeted, saying the comic was one reason "why the left can't be taken seriously."