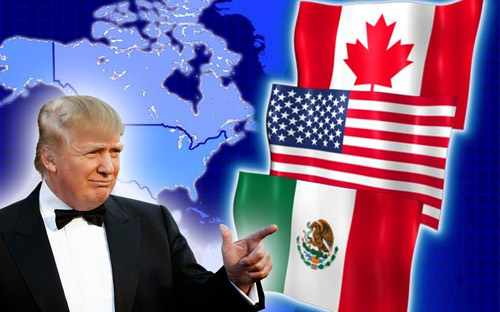 It's official. Mexico's President Pena Nieto has pulled out of his scheduled White House meeting for later this month.
Earlier this morning President Trump tweeted that should Mexico determine they do not want to pay for the wall, they might as well cancel the meeting.
The U.S. has a 60 billion dollar trade deficit with Mexico. It has been a one-sided deal from the beginning of NAFTA with massive numbers…

— Donald J. Trump (@realDonaldTrump) January 26, 2017
of jobs and companies lost. If Mexico is unwilling to pay for the badly needed wall, then it would be better to cancel the upcoming meeting.

— Donald J. Trump (@realDonaldTrump) January 26, 2017
And while Mexico's Pena Nieto said yesterday that his country doesn't believe in walls and that he would still like to meet Trump at the White House, after Trump's early morning tweet, Mexico changed its tune.
"This morning we informed the White House that I will not attend the scheduled work meeting for next Tuesday with @POTUS."
Esta mañana hemos informado a la Casa Blanca que no asistiré a la reunión de trabajo programada para el próximo martes con el @POTUS.

— Enrique Peña Nieto (@EPN) January 26, 2017
As financial website Zero Hedge notes, the move by Mexico could have a disastrous impact to their economy as it signals Trump's willingness to no longer be bullied by traditional foreign policy.
The following report was originally published at Zero Hedge:
Vicente Fox, the former Mexican president, stoked the flames in cruder terms in a series of tweets. "Donald, don't be self-indulgent. Mexico has spoken, we will never ever pay for the #F**kingWall," he tweeted on Thursday morning.
And just like that NAFTA may be over. And the peso is plunging…
* * *
Mexico now finds itself in a double bind, squeezed not only by Trump, but also by its partner Canada, which as we reproted last night, has left Mexico on its own. Recall that Canada will focus on preserving its U.S. trade ties during talks to renegotiate NAFTA and may not be able to help Mexico avoid being targeted by the Trump administration, Canadian government sources say.
"We love our Mexican friends. But our national interests come first and the friendship comes second," a source said on the sidelines of a cabinet retreat in Calgary, Alberta. "The two are not mutually exclusive," the source added.

In other words, when it comes to preserving NAFTA, it's important, but what is more important is being on good enough terms with Trump to be able to cobble together a bilateral treaty should NAFTA fail.  As Reuters reports, the comments are some of the starkest yet by Canadian officials, "who are increasingly convinced Mexico will suffer the most damage from changes to the North American Free Trade Agreement."

Reuters' government sources note Mexico and Canada would appear to have little in common. Trump is unhappy about the large U.S. deficit with Mexico and has promised to punish firms with manufacturing bases there. "Our negotiating positions are totally different. Mexico is being hung out of an skyscraper window by its feet," said a second government source."Mexico is in a terrible, terrible position. We are not," said another Canadian person involved on the trade file.
Nieto just may have to pay for that wall after all.
Portions of this report have been contributed by Zero Hedge.