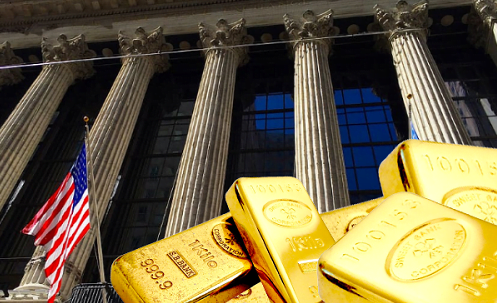 Amir Adnani, the Chairman of GoldMining Inc. did a fascinating interview with SGT Report.  Adnani says,  "WW2 remains the most expensive war ever fought, the total cost was combined six trillion dollars US dollars adjusted for inflation. The stimulus committed by central bankers in 2020…. exceeds the total cost of WW2."
Why? Because the elites who want to control everyone understand that fear did not work to keep the public in their grip, so they are trying with worthless fiat currency. The governments of the planet don't want the public to even have access to precious metals, or real money.  Mines are shutting down left and right under the orders of tyrants.  The solution, according to central banks, is to print more fake money.
Adnani goes into detail about what the lockdowns mean for gold:
The entire supply chain is "grinding to a halt because of virus restrictions," Adnani said. He said it clear as day: the virus didn't cause any of these.  People following the commands of tyrants caused all this chaos. "Governments are telling them what they gotta do!"
David Icke has a solution, and it's the same one we have.  We put the lockdown in place by following tyrannical orders and we can lift it by disobeying.
David Icke To LEOs & Military: "Look Your Children In The Eye" & Tell Them YOU Enforced Tyranny
So until people really stand up and go about their lives, what do we do? Adnani says if "you have [gold or silver] you hold on to it!" That's how mining companies are going about this problem right now. Billionaires are buying gold mining stocks and physical gold right now and have been since before the government's heavy-handed response to what's turned out to be a very mild viral outbreak.
Adnani says we are in the "early innings" of the new gold market. "Perspective is very important here, to understand why it is so important to be concerned right now about fiat currencies," he adds. Global debt, both public and private is just under 300% of GDP.  The globe is indebted. The money is being printed as a way to get people back on the government's side so they can continue to control and manipulate the public. The solution is to go back to work.  Reopen your business and stop relying on government promises.
The government and their mainstream media puppets are losing control of the narrative quickly and they are scrambling to keep the public in line right now.